Tenth Aesthetic: Halloween
October 31, 2019 @ 10:00 pm

-

2:00 am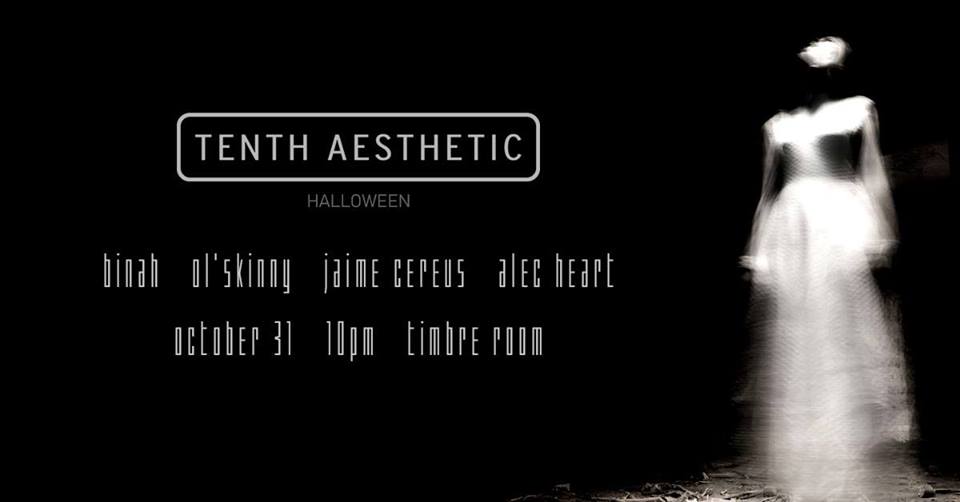 Lost in the moment, they were savage, they were superb.
Tragic, fearful, the darkest thing I heard.
Ominous and stately as a hush fell around,
Wide-eyed and magnificent, they never touched the ground.
"You will be lost," they were lowering their voice,
"Be loyal to the nightmare, the nightmare of your choice."
Something's pure about this place, these noble burning words;
Brooding air of menace, sense of the absurd.
Lost in the moment, with the drone of the machines,
Beating back the water, breathing smoke into your dreams.
They made no answer,
I thought I saw them smile.
Come crawling through the madness,
The long forgotten trial.
===========
Join us for All Hallow's Eve with Binah, Ol' Skinny, Jaime Cereus & Alec Heart, obscured in smoke and dark techno.
$5 before 11 PM, $10 After
===========
Timbre Room
1809 Minor Ave
Seattle, WA
21+ w/ID
===========
Timbre Room does not tolerate bigotry, sexism, homophobia, transphobia, racism, misogyny, ableism, or any discriminatory actions. Security is strictly enforcing these rules, and those who do not abide by these rules will be told to leave.
Timbre Room is ADA accessible with a ramp to the front door/bar area, and access to the back door/dance area through the patio area, and 2 accessible gender neutral restrooms available. If you have any questions about the safety or accessibility of this venue, please email info@timbreroom.com
Related Events