The Mr. Linden Fundraiser
August 8, 2019 @ 10:00 pm

-

2:00 am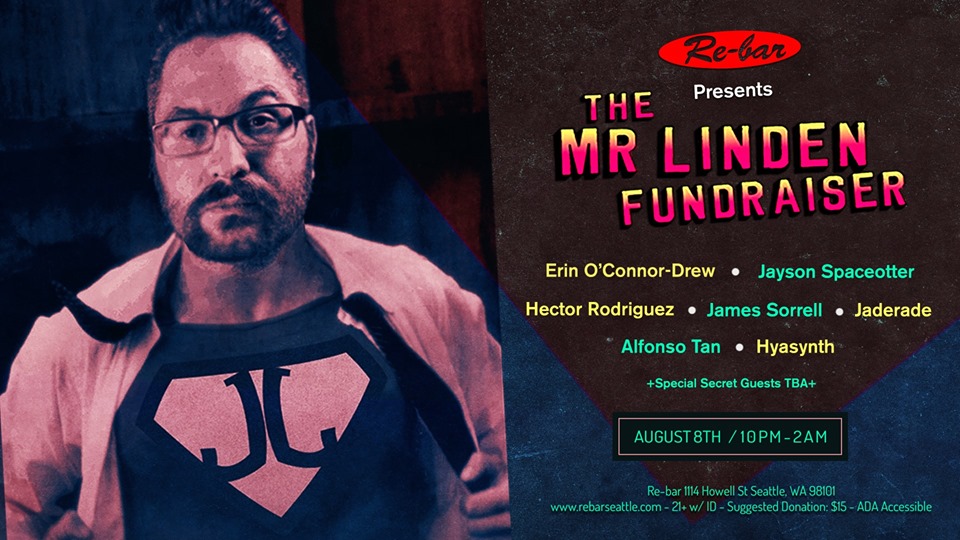 This party is a fundraiser for our friend Jeremy Linden ♥
Please share far and wide!!!! BIG HUGE THANKS to Dane Garfield Wilson and Re-bar Seattle for donating the space for this event, and to Carlos Nevarez for donating the flyer design!!!
Jeremy Linden aka Mr. Linden aka DJ Utopia, is our friend, superstar DJ, Seattle Quake Rugby team member, and moderator of the Seattle Church of House Music. He is the kind of guy to not make a big deal about himself, so his DJ friends are throwing this party to make sure he has the money to go through the surgery (or surgeries) and take the time off work he needs in order to heal.
How it happened: (**trigger alert**) Jeremy recently found himself in downtown Seattle where he encountered a man in an altered state screaming at a family with their 6-year-old child who were obviously intimidated. He did not know this family, but he walked directly over to try to help ward off this hostile man. For Jeremy's bravery, and without actual provocation, he got sucker-punched in the face, and the man broke Jeremy's jaw before escaping on a bicycle.
The police are investigating the incident, but our friend Jeremy now has medical bills and months of recovery to face. J-Lin is a guy who helps seemingly everyone in the house music community (and beyond, apparently) without asking for anything in return or wanting to make a big deal.
Please help us raise funds for our Low-Key Hero Jeremy to defray medical costs. The DJs bringing their hearts and souls to this event are:
*** Erin O'Connor-Drew
*** Jayson Sandison (Spaceotter)
*** Hector Rodriguez
*** Jaderade
*** James Sorrell
*** Alfonso Tan
*** Karen Baskett (Hyasynth)
*** Plus, some special guests TBA!!!!
Also, listen to/favorite/share his amazing live mix from Flammable from earlier this year as it would make him happy: https://soundcloud.com/flammable_seattle/flammable-mix-series-live004-mr-linden-1
See you on the dance floor!!!!
Re-bar
1114 Howell St Seattle WA 98101
www.rebarseattle.com
21+w/ID
$15 suggested donation
ADA Accessible
To donate to his GoFundMe Campaign click here >>
https://www.gofundme.com/f/secret-jlin-medical-expense-fundraiser?utm_source=customer&utm_medium=copy_link&utm_campaign=p_cp+share-sheet
Related Events