Tim Smith-Stewart & Jeffrey Azevedo: Salvage Rituals
February 1, 2020 @ 7:00 pm

-

9:00 pm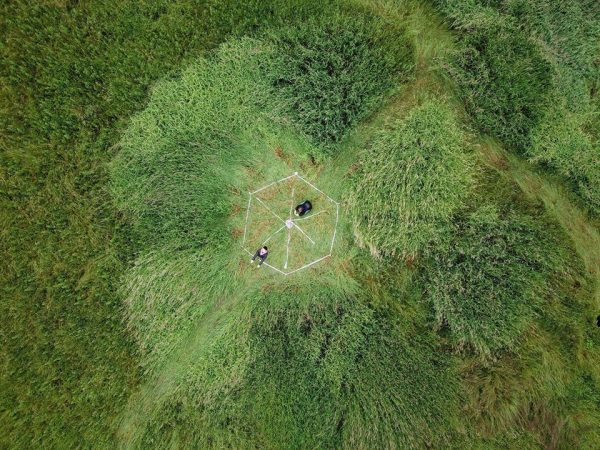 This work-in-progress showing invites the audience into the first iteration of an ongoing community practice and dance party. Born from a private ritual to mourn friends very much alive but lost to unsupported neurodivergence and addiction, Salvage Rituals is interested in the potential of communal ritual intersecting with DIY engineering as an embodied practice of mutualism/mutual aid. A rigorous movement score takes place on a hexagonal platform constructed of piezoelectric tiles, which transforms the mechanical stress from the performers' bodies into electrical current, actively powering the stage lights.
Performers/collaborators include Alyza DelPan-Monley, Sophie Franco, Alice Gosti, Alexandra Harding, Erin McCarthy, Stefan Richmond, Charles Smith-Stewart, and Paul Smith-Stewart. The performance culminates in a dance party featuring DJ Alice.
Tim Smith-Stewart is a queer interdisciplinary artist who uses text as his primary medium for creating installations and performances. Jeffrey Azevedo is a theater artist and the managing director of Washington Ensemble Theatre (WET). In 2017, Smith-Stewart and Azevedo premiered Awaiting Oblivion… at On the Boards and The Perpetual Insurrection of Claude Cahun at the Henry Art Gallery. Other presentations incudes On the Boards' NW New Works Festival, Risk/Reward (Portland), Velocity Dance Center, and Fresh Oysters Performance Research (Minneapolis), as well as installations at New Tomorrow, Erasure (curated by Lion's Main Art Collective), and the Lo-Fi Arts Festival. timandjeffmakeart.com
Salvage Rituals is a National Performance Network (NPN) Creation & Development Fund Project co-commissioned by On the Boards (Seattle) in partnership with Risk/Reward (Portland) and NPN. The Creation & Development Fund is supported by the Doris Duke Charitable Foundation, the Andrew W. Mellon Foundation, and the National Endowment for the Arts (a federal agency). For more information: www.npnweb.org. Tim Smith-Stewart and Jeffrey Azevedo participated in On the Boards' 18/19 Artists-in-Residence Program.
Related Events