Tremulant: Niki Sadeki
August 24, 2019 @ 10:00 pm

-

2:00 am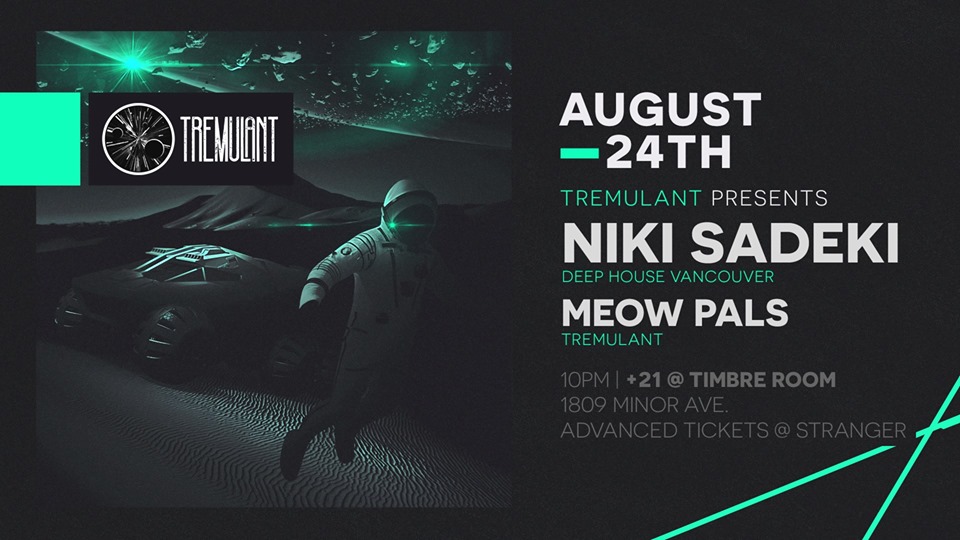 Tremulant Presents
Niki Sadeki (Deep House Vancouver)
Meow Pals (Tremulant)
Live Visuals By:
C. M. Barth
www.instagram.com/c.m.barth
Nick Bigelow
www.instagram.com/nickbigeloww
Get tix: bit.ly/TremulantSadeki
Timbre Room
1809 Minor Ave.
Seattle, WA
http://kremwerk.com/
21+
– – – – – – – – – – – – – – – – – – – –
Niki Sadeki is a Vancouver-based DJ, musician and the host of the monthly podcast series 'Allure' on Frisky Radio. Due in no small part to her popular online mixes, Niki has steadily gained recognition within the dance music community.
From raiding her parents' record collection when she was just a child, to becoming resident at Vancouver's MIA, Niki has continuously been living with music in the forefront. Within a very short time, she has put herself on the map as an up and coming DJ.
With a focus on deep, melodic and ethereal dance music, Niki conveys her expression of life to listeners and engages crowds through her live sets when she's behind the decks, and through dozens of podcasts and studio mixes. Her sets have been described as musical journeys, charming listeners and at the same time inviting them to dive into their own individual world of sensations.
– – – – – – – – – – – – – – – – – – – –
Every Month…
Step aboard our vessel and prepare to launch… but don't worry, each trip features new mix of audio and visual captains to lead the way. Passengers must come prepared for the inter-dimensional depths of downtempo house and techno. Leave your earthling troubles behind, and let us transcend to a better place in space, because… Tremulant Can Help.
– – – – – – – – – – – – – – – – – – – –
Sign up for the Kremwerk + Timbre Room Complex mailing list on our website, to stay in the loop about upcoming events, ticket giveaways and more!
http://www.kremwerk.com/
Timbre Room does not tolerate bigotry, sexism, homophobia, transphobia, racism, misogyny, ableism, or any discriminatory actions. Security is strictly enforcing these rules, and those who do not abide by these rules will be told to leave.
Timbre Room is ADA accessible with a ramp to the front door/bar area, and access to the back door/dance area through the patio area, and 2 accessible gender-neutral restrooms available. If you have any questions about the safety or accessibility of this venue, please email info@timbreroom.com
Related Events