Unwanted Drag Show
June 7, 2019 @ 7:00 pm

-

10:00 pm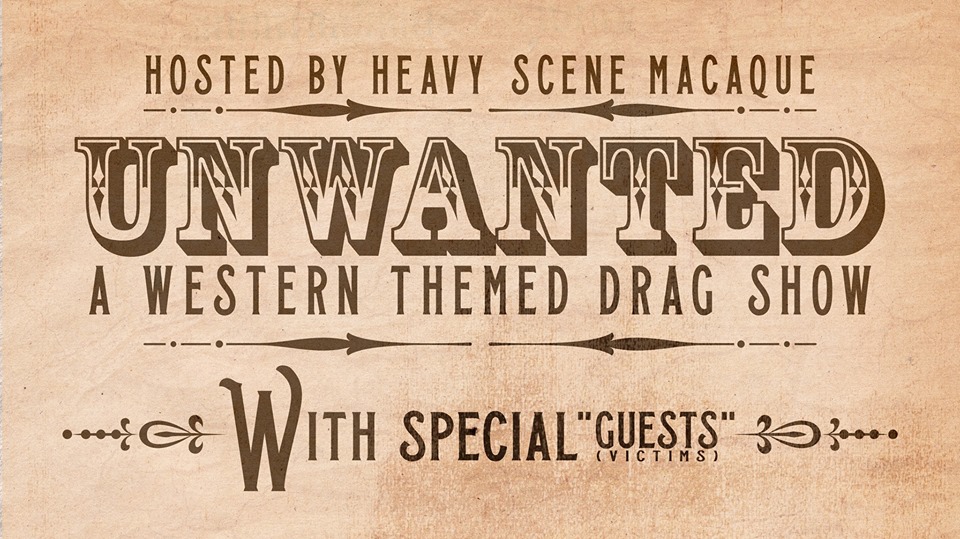 🤠 TIX:
bit.ly/UnwantedTR
🤠
HOWDY HECK, on Friday June 7th, there's a new Sheriff in town: the ruthless, useless Heavy Scene Macaque!
And Sheriff Heavy knows that out in the wild west, we only settle disputes one way: a lipsync duel to the death! Two desperadoes will start back-to-back, take ten paces… and then blast the audience with some twangin' tumbleweed justice.
These dusty divas may be settling grudge matches but it's important to remember they are all DANGEROUS criminals, which is why Heavy is making all their mixes for them (as punishment). Is that cruel and unusual? You bet your boots it is!
Host: HEAVY SCENE MACAQUE
Special guests:
TERRIE BELLE NIGHTSHADE
SIREN
CESARE
YOUTUBE DOT COM SLASH JESSE PETTIBONE
$8/advance, $12/at the door
Doors @ 7pm / Show @ 8pm
Dress to confess.
—————————————-
Timbre Room
1809 Minor Ave.
Seattle, WA
timbreroom.com
21+
—————————————-
Sign up for the Kremwerk + Timbre Room Complex mailing list on our website, to stay in the loop about upcoming events, ticket giveaways and more!
www.kremwerk.com
………………………………………
The Kremwerk + Timbre Room Complex strives to be a safe space. The following actions or display of behavior will not be tolerated: bigotry, racism, sexism, transphobia, homophobia, misogyny, ableism, as well as the disrespect of the rules of consent. Our staff is here to support you.
For any questions about safety & accessibility, please email info@kremwerk.com
Related Events