Womxn On Top: Space Needle
October 30, 2019 @ 5:30 pm

-

7:30 pm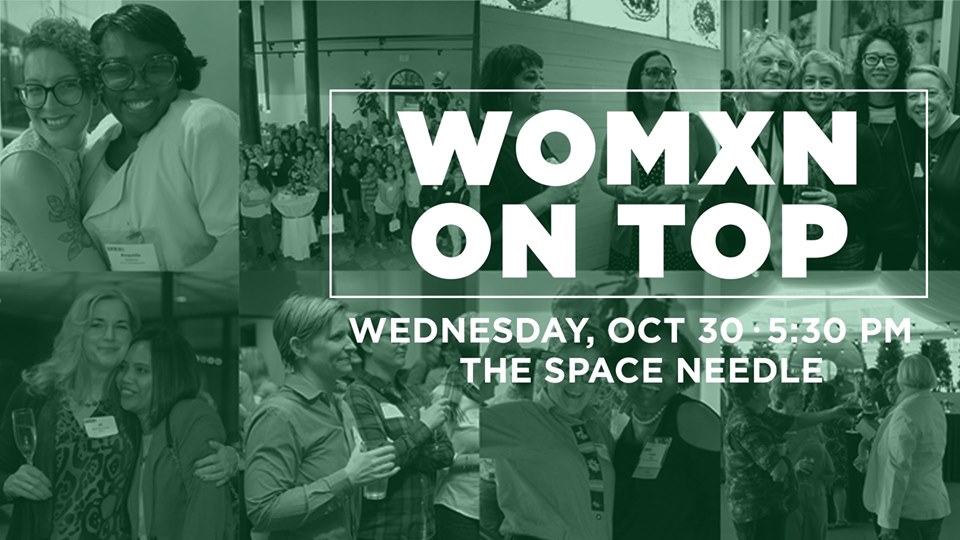 This fall, we're going sky-high for our final Womxn On Top event of the year, presented by Pacific Medical Centers, at the most iconic feature of Seattle's skyline: Space Needle. Take in breathtaking, panoramic views from the sparkling waters of Elliott Bay and Lake Union, to the spectacular mountains of the Olympics and Cascades. Enjoy the Space Needle's hand-crafted cocktails and bites, regional wine and beer, and most importantly, the company of LGBTQ and allied womxn who call the PNW home.
What sets Womxn On Top apart from our other networking events such as Power Connect and Young Professionals with Pride, is how it fosters a unique space for womxn and female-identified community members to connect with each other in a welcoming environment.
**Why We Use "Womxn"**
All GSBA programs are designed with intentionality, to include, affirm, and support all areas and intersections within the LGBTQ community. GSBA uses the term "womxn" as an encompassing umbrella term to include the many identities and experiences which are welcome at Womxn On Top events. By using this word, GSBA would like to make it known that all womxn, transwomen, cisgender women, female-identified, femme, and gender diverse people are welcome to share space at Womxn On Top events. While Womxn On Top events are not designed for people who identify as men, male, and/or cisgender men, GSBA provides other networking events which are open to all identities, such as Power Connect: East, Power Connect: South, and Face to Face Candidate Forum.
**Want to Promote Your Business?**
If you'd like to spread the word about your business by donating an item as a prize for our giveaway, contact us at office@thegsba.org.
**NAMI Washington, Our Featured Nonprofit**
NAMI, the National Alliance on Mental Illness, is the nation's largest grassroots mental health organization dedicated to building better lives for the millions of Americans affected by mental illness. The NAMI organization operates at the national, state and local level. NAMI Washington provides educational resources and events, statewide outreach, advocacy and affiliate organizational support. NAMI Washington provides the free trainings that allow NAMI affiliates to provide NAMI programs.
**Pacific Medical Centers, Our 2019 Womxn On Top Sponsors**
Pacific Medical Centers (PacMed) is a multi-specialty medical group with 9 neighborhood clinics in the Puget Sound area. Founded in 1933, the PacMed network is one of the largest throughout the Puget Sound and offers patients more than 150 providers for primary and specialty care. PacMed's culture focuses around its mission of delivering high quality health care focused on the individual needs of its diverse patient population with an emphasis on improving the quality of health in our community.
Related Events