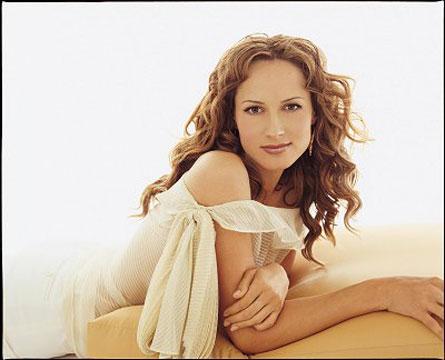 There are (stupid) people who claim that LGBTQ people don't like Country Music…it's too corny and it (mainly) comes from the Conservative Red State South.  Well, some of it IS corny and much of it DOES come from Hee-Haw/KKK/Tea Party country but many country songs and artists are beloved by the many members of the queer family. Hullo? Patsy Cline, Loretta Lynn, Tammy Wynette, Shania Twain, Dolly Parton, Miranda Lambert, Reba McEntire and many other c/w ladies are beloved icons and a few of those hunky c/w men have their fans, too. (Uh, the ridiculously hot Tim McGraw for one…)
One popular lady singer became VERY popular with the gay community last year when up and coming singer Chely Wright came out of the closet as a lesbian. Yes, her album sales dropped and state fairs canceled her appearances but she emerged as a role model for the lesbian community. Since then, she's kept busy with many new projects including a documentary about her life, Wish Me Away, which debuts at the Seattle Lesbian & Gay Film Festival on Friday October 21 as a Centerpiece Gala & Party; (get your tickets here); and she also tied the knot with her partner Lauren Blitzer in August of this year.
If you adore and admire Ms Wright, you can check her out in person this Saturday and Sunday at Benaroya Hall when she performs with the Seattle Women's Chorus for their "True Country" fall concert. You can expect songs from many of the female artists listed above plus work from The Dixie Chicks, Martina McBride and Anne Murray. Both shows happen at 2pm and tickets are still available.
To make this show even more of a draw, it's being hosted by "The Spuds", the amazing mother/daughter duo of Euomi and Wynotta Spudd. The Spudds are also known as the comedy duo, Dos Fallopia, aka Lisa Koch and Peggy Platt and if you haven't seen them on stage, well, you should, 'cause they're funny as hell and Seattle's Queens of Comedy.
All you closeted C/W fans need to break down that door and just admit you know all the words to the "Patsy Cline: Greatest Hits" and you have Coal Miner's Daughter memorized…
Check it out, y'all.
Tags: Chely Wright, Lisa Koch, Peggy Platt, Seattle Lesbian and Gay Film Festival, Seattle Women's Chorus, The Spuds, True Country, Wish Me Away