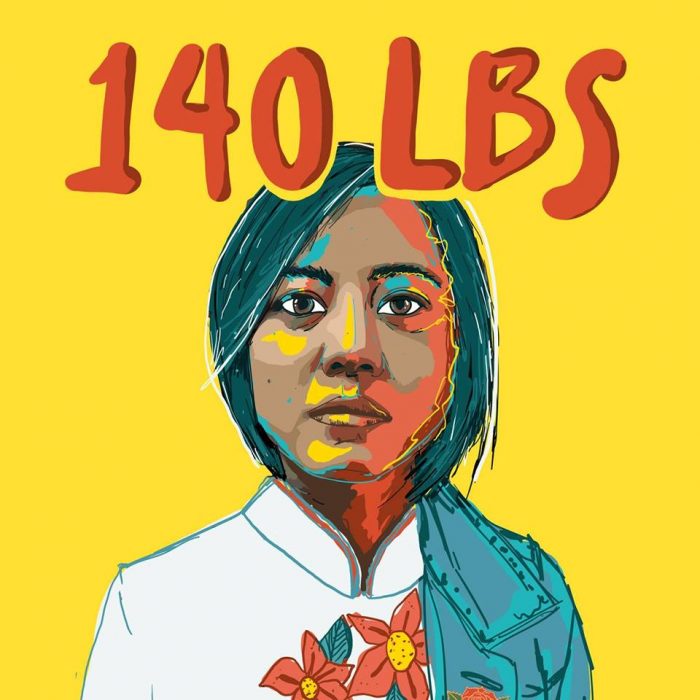 "How beauty killed my mother" is the tagline for 140 LBS, Susan Lieu's solo show up now at Theatre Off Jackson.  It's premised on Lieu's desire to uncover the details of her mother's death at the hands of a plastic surgeon in San Francisco — one who had numerous complaints and lawsuits against him, and was said to have preyed on Vietnamese refugees through magazine ads targeting them.  
Many years later, despite (or perhaps because of) it being the subject no one in the family ever talked about, Lieu begins an obsessive journey to learn as much as she can about her mother's death.  She pours over hundreds, maybe thousands, of deposition transcripts. She finds contact information for the doctor's family and tries to reach them by mail — promptly receiving a voicemail back from the doctor's daughter, eager to talk about how Lieu's mother's death impacted the family (a recording played during the show).  Lieu returns the call, again and again, but the daughter never answers, apparently having changed her mind about talking. Lieu visits the offices, which have since closed down. She phones the lawyer's office handling the original case (its details not described in the show, but likely the medical board hearing), hoping perhaps her family can sue the doctor — and learns of the doctor's death, from Parkinson's, just a month before.  Another wall.
The factual journey may have formed the impetus for the show (and the crux of the segment put up at On the Boards last year, where I saw it as part of the 16-artist Northwest New Works showcase), but it didn't end there.  This version is a more complete, multi-layered story, that centers on the family, her mother as a person, and the effects on the family after her death. It tells of her mother as someone who persevered to flee her country to give the family a shot at the American Dream, a frugal person, a hard worker devoted to helping others feel beautify (she worked long hours at the family's nail salon), who approached elective surgery as a break from the grind, something kind she could do for herself to feel beautiful.
Lieu was only 11 when her mother died, and her mother was 38 at most (1958-1996).  The morning of her mother's surgery, the two had a fight, as sixth graders and their parents are prone to do.  After her death, Lieu was carrying around unimaginable guilt and grief. Her story is a journey of reconnecting with her mother as she began to feel her presence, and answering her mother's call not to let her story be covered up.  
Meanwhile, Lieu grows up herself, facing the same messages on bodies and beauty that her mother must have faced.  Indeed, the title itself is something of a middle finger to those destructive messages and impossible standards: Lieu indicates her current weight is 140, the same as her mother's actual weight when she died — a weight which apparently so horrified her that she wrote 110 on her intake forms when going in for a tummy tuck.  Rejecting that shame, Lieu embraces it with the title.
The show centers on her mother's story and Lieu's journey, clearly, but it's very much a full-family story, too: the driving forces of flight from Vietnam; the long days among years of low-wage work to support the American Dream (which includes Ivy League-educated-professional children and BOGO coupons at the Sizzler); the unique pressures from aunties ("They'll probably force-feed you, and then say you're too fat"); the crowded extended-family house (13 people in a four-bedroom); and its emptiness when other family members left after her mother's death.  
The story pretty well stands on its own — on an empty stage, with minimal sound cues and simple, mood-matched lighting — but Lieu's sharp performance of it shouldn't be minimized.  She's expressive, she's fluid (playing some 10 characters), and she's funny.
In this latest version, local theatre superstar Sara Porkalob directs, and her influence throughout the show is obvious.  That's generally a good thing. In Porkalob's own solo work, principally the Dragon cycle, she's brought three generations of her Filipino American family's story to stage, including several iterations of the first, Dragon Lady (about her storied gangster grandmother), which earned sold-out houses and three Gregory Awards.  She's known for playing countless characters, including family members of all ages, in rapid-fire succession.  There are a few minor points of the show where Porkalob's influence feels a little strong — namely, some of Lieu's sibling interactions where I could hear Porkalob's "Hey Junior!" "What, sis?" (from her latest family tale, Dragon Mama, and some iterations of Dragon Lady).  But overall, the Lieu/Porkalob combo is an exceptional one — applying Porkalob's winning formula of sharp wit, efficient storytelling, family drama, voices and gestures — which Lieu demonstrates by playing a whole family of characters convincingly, in seamless conversation, with little more than a quick pivot between them.  It's a quick 70 minutes, but feels complete — rich, efficient, effective.
It's a gift, to bring out personalities of generations with enough details to make their private conversations on stage feel dramatic and real; and, with heart and humor, to keep alive a story that's much easier to let be covered up.  Lieu's mother, Ha Thuy Phuong, should be proud.
140 LBS runs through 2/20 at Theatre Off Jackson, in the International District (remaining shows are 7:30 pm Friday, 2 & 7:30 pm Saturday, 2 pm Sunday, 7:30 pm Wednesday; currently, the Friday, Saturday night, & Sunday matinee shows are sold out).  Tickets $25, available here.  (Financial accessibility note: only student & senior discounts currently listed; bus, light rail & trolley service ample in the area; parking is scarce (depending on nearby events), and closest street parking is metered every day but Sunday.  Gender-neutral bathroom policy: restrooms are all gender-neutral, multi-stall. Physical accessibility: TOJ is wheelchair accessible, through an alley entrance; please contact venue ahead of time to ensure smooth access.)
(Visited 2 times, 1 visits today)