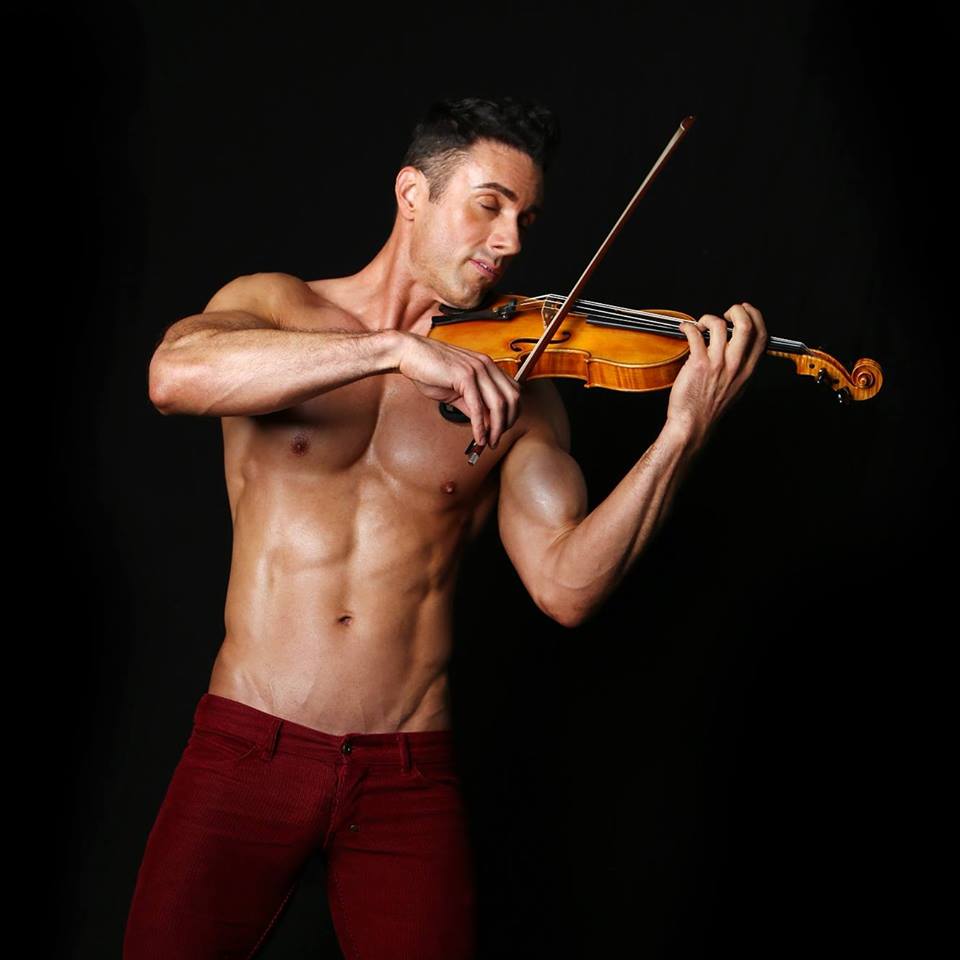 We don't know why he is shirtless….
Well, we do. I mean, to quote a famous song, "You Gotta Have A Gimmick!" And, if you're talented and have real nice pecs, why not show them off to their best advantage? (Keep reading…you'll find out why he IS shirtless…)
If you enjoy listening to the violin and if you enjoy gawking and gaping at shirtless hunks playing the violin, then we have a show for you!!! It's THE SHIRTLESS VIOLINIST and he's got a show at Old World Tasting Room, ( 3861 1st Ave S) down in the darkest reaches of SoDo and it's happening FRIDAY, October 18th and you can still get tickets to check it out….go HERE to snag tix and a chance to see/hear him perform. Also note that a portion of ticket sales go to help Lambert House!
Also…WHO IS THE SHIRTLESS VIOLINIST and we were delighted to discover…he's LOCAL!!! He's actually Matthew Olshefski and he's a Seattle lad and and a…not surprisingly…a gym bunny! But, let him tell his story:
I'm Matthew Olshefski, a classically trained violinist from Seattle, Washington. I have been playing the violin since the age of 3, and it's truly a part of my heart and soul. I am also a former fitness instructor and self-described gym bunny – so, naturally, it occurred to me that I might try combining my two passions: Music and Muscles.

Honestly, though, no one has tried to make this happen! The classical music world is very "stuffy" and the fitness world gravitates toward high-energy dance music. So it's really no wonder that these two seldom overlap – but it has become my personal mission to change that.

I am on a quest to make classical music sexy!
"Why shirtless??

"It's the question I'm always asked, and I'm here to give you the answer!

If The Shirtless Violinist was a superhero, this would be his origin story. Sit back, pour yourself a glass of (red) wine, and allow me to explain…I was born in Santa Fe, grew up in the midwest, and currently call Seattle my home. I have been playing the violin since the age of three, and I can't remember a time without music in my life. As a teenager I became so devoted to the instrument, I would practice for up to six hours each day. But after playing in symphonies and orchestras for many years (always dressed in a suit and tails) I began to wonder if my musical ambitions would amount to anything more.

A few years ago I started noticing different classical musicians "crossing over" and posting really beautiful and creative music videos on YouTube. It sparked my imagination, and I knew instantly it was something I wanted to try myself. But where would I begin? Time passed and I held onto the dream, always saying to myself "maybe one day…"

Then I met my current boyfriend, Paul, and when I told him about my dream his face lit up! It turned out Paul's "one day" dream was to be a filmmaker and he was eager to help me make a video. I was determined not to let "one day" become "never" for both of our dreams, so we got straight to work. At this time I was a fitness instructor and spent a lot of time in the gym – so Paul threw out a random idea:

"I think your video will get more attention if you take off your shirt!" I laughed out loud when he suggested it! I grew up in a very conservative midwestern home, so the idea of taking my shirt off in front of anyone was hilarious. It's just not something I ever did. But Paul was certain this would give the video an extra push, so I decided to have a little fun and play along (it was the middle of August, after all!). Well it would seem my fate was sealed because with that first video I instantly became known as The Shirtless Violinist.

There was no turning back.
Read MORE about his "origin story" over HERE. And, check out his website HERE to snag his music and merch.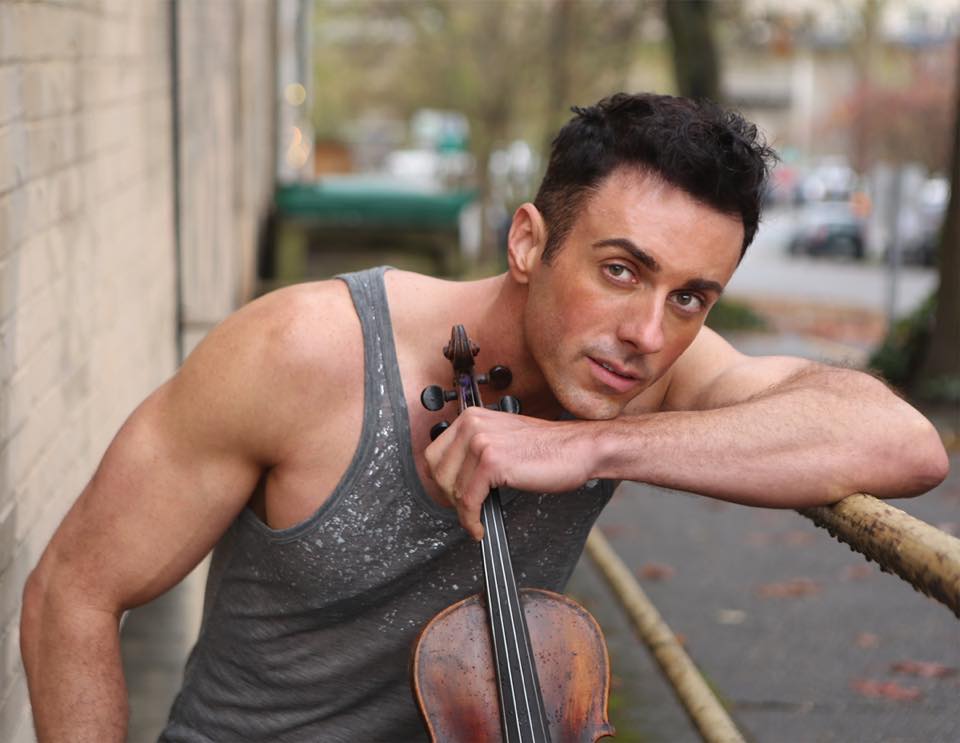 (Visited 7 times, 1 visits today)