5K ft. Sam Hipp & ZOF
August 27, 2021 @ 9:00 pm

-

2:00 am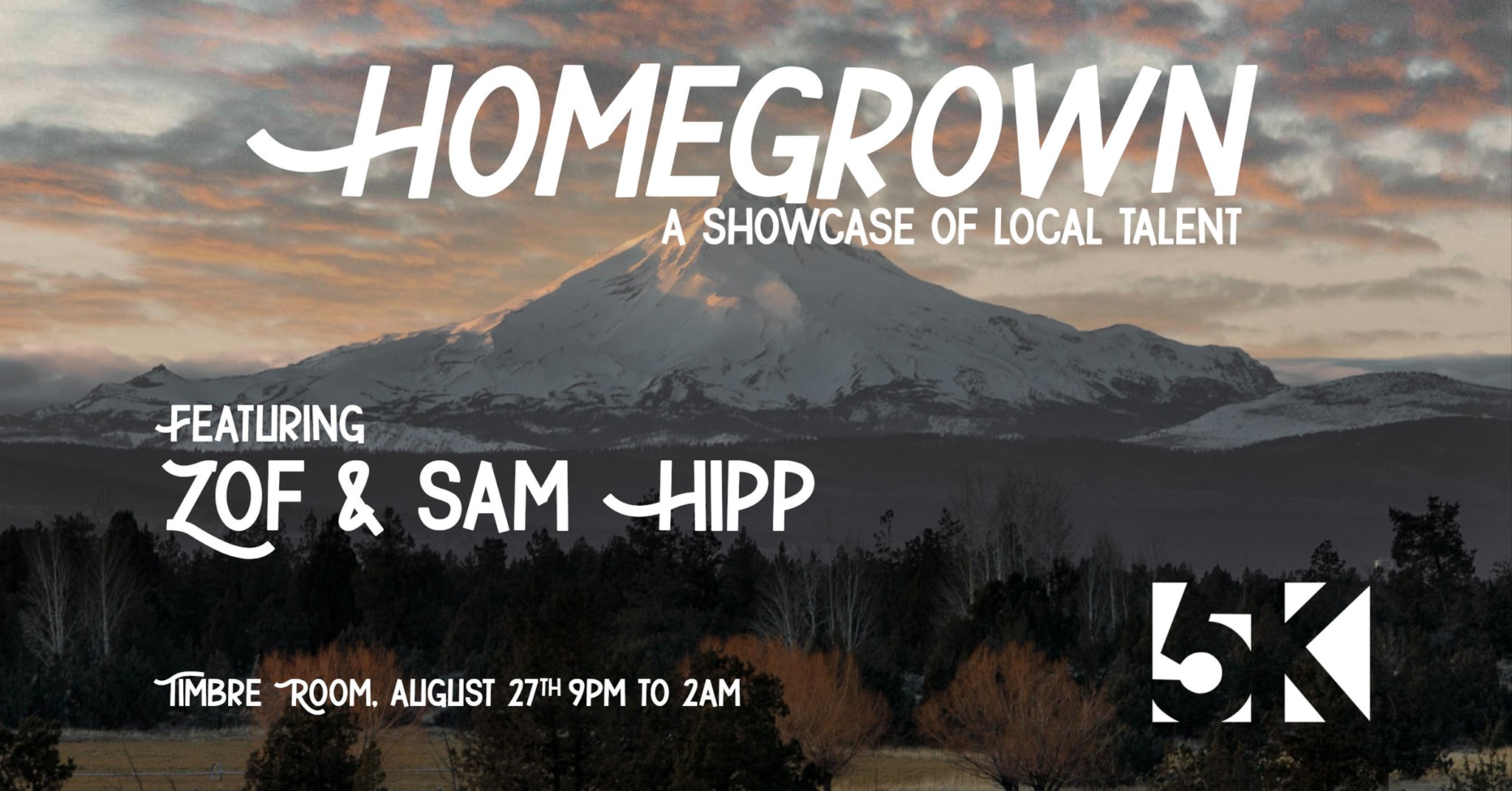 HOMEGROWN is 5K putting our local artists in the spotlight, the people we have here within our own city/state doing big things for themselves and/or others.
5K is a monthly event focused on bringing Producer/DJ's who we anticipate to go the distance.
The Artists who create your favorite DJ's secret weapons, those who are yet undiscovered. The Festival sets that have you saying WHO TF IS THIS?!?!?!
For the first run of the HOMEGROWN branch of 5K we welcome ZOF & Sam Hipp.
————————–
ZOF
ZOF is a rare talent, her skillz as a producer are tops, and she handles the decks with ease.
A true WA state native you may have caught her around at your local festivals, or on one of many shows she plays throughout the city on the regular.
With releases all through 2020 and the tracks still coming you can expect to see her traveling outside Seattle for gigs soon enough.
A humble creative do not expect her to boast about her own accomplishments, that's our job.
ZOF has to be one of our top pics coming out of Seattle in 2021, keep an eye out.
————————-
Sam Hipp
With a combination of groovy rhythms, hard-hitting bass and melodies that won't leave your head for days,
Sam Hipp is quickly making his iconic mark on modern dance music. As a member of the up-and-coming bass
music group Aranck, Sam has made an indelible impression on the Tokyo club scene, playing in and holding residencies
at some of the most prestigious venues there including Ageha, Womb, Vision, PlusTokyo and Yellow Blank Market.
In addition, he has also had the privilege of playing alongside and in support of some of the the biggest up-and-coming
DJs in the industry, namely Vivid, Mephi, Herbalistek, Allen Mock, Jay Dunham, Asjockers, and more.
Now based in Seattle, Sam has continued his upward trend, topping the Beatport techno charts in December with his debut EP titled "Wavy Davy" through Seattle's
own Munchies After Dark records.
—————————
Installs by KAB
– Jordan Ranz
————————–
Timbre Room
1809 Minor Ave.
Seattle, WA
http://kremwerk.com/
21+
Timbre Room is ADA accessible with a ramp to the front door/bar area, and access to the back door/dance area through the patio area, and 2 accessible gender-neutral restrooms available. For any questions about safety & accessibility, please email info@kremwerk.com.
………………………………………
SAFER SPACE
The following actions or display of behavior will not be tolerated: bigotry, racism, sexism, transphobia, homophobia, misogyny, and ableism.
Consent is required when interacting with others. A person's choice of self-expression is not an invitation for non-consensual touching. Any form of harassment including leering, rude comments or touching will be dealt with, and anyone caught harassing other patrons will be given a lifetime ban from our club. Our staff is here to support you.
PHONES
For the sake of the vibe during dance parties, we ask that you avoid using your phones or taking photos anywhere on the dance floor. Feel free to use your phones on the patio.
………………………………………
To stay in the loop about upcoming events, ticket giveaways, and more, sign up for the Kremwerk + Timbre Room Complex mailing list!
http://www.kremwerk.com/
(Visited 1 times, 1 visits today)
Related Events