A Black Homage to the 90's: It's a Kiki Ball!
August 24, 2019 @ 8:00 pm

-

11:00 pm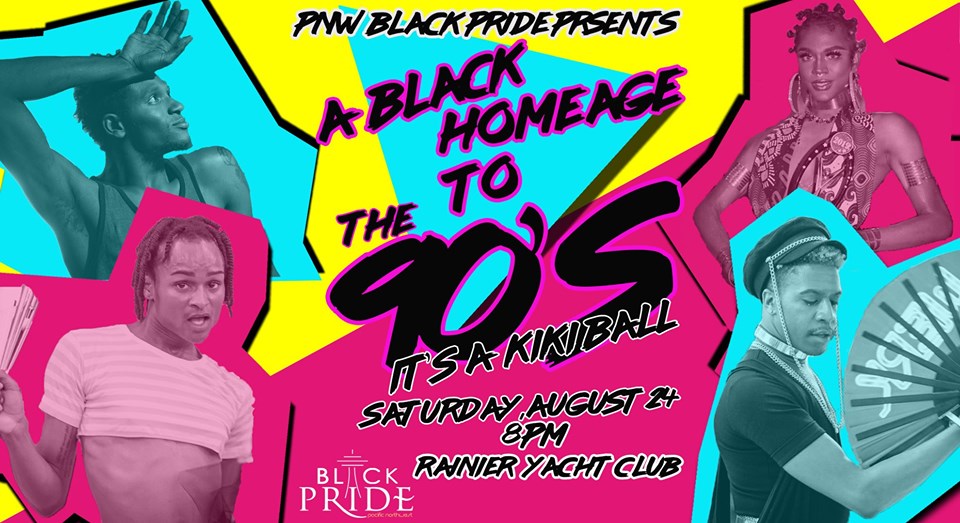 It's time to honor the 90s! A Black Homeage to The 90s is a black/poc centered event meant to uplift and center black and poc people. Everyone 21+ is welcome at this event, and expected to honor the culture of Ballroom and the people who created it.
August 24, 2019 8:00 PM – 11:00 PM
Rainier Yacht Club
9094 Seward Park Ave S,
Seattle, WA 98118
Admission – Free! Suggested Donation of $10
Judges To Be Announced
Guest Commentator Shawn M Rule
CATEGORIES ARE:
**RUNWAY (OTA) Which 90s Runway Model Icon most inspired you? Bring it in a look resembling their image. Have a printed photo of your inspiration ready to show the judges. You will be judged on presentation AND the way you serve that ICONIC WALK.
TROPHY
CASH CATEGORY – $200
FACE (OTA) Do you remember how heavy the girls wore their eye shadow in the 90s? Well so do we! Bring it all natural or with a light beat, but whichever you choose we wanna see your eye shadow POP!
TROPHY
VIRGIN (BABY) Vogue (OTA) Alright children, what brings back the 90s through nostalgia more than cartoons? We couldn't think of anything. So whether you're a Rugrat, a Simpson, an Animaniac or a Cowardly Dog, be sure to bring your Baby Vogue as your favorite 90s cartoon character. You can be any cartoon character but must have originated during the 90s.
TROPHY
VOGUE FEMME (OTA) Who says denim is just for pants? As if! Living in the 90s denim can be worn head to toe! Bring it wearing denim in a creative way.
TROPHY
**BEST DRESS (TRANSMEN / TRANSWOMEN) You are a 90s Fashion Icon – Bring your creativity to the judges in your most extravagant look from the 90s – YOU ARE THAT FASHION ICON. TROPHY
CASH CATEGORY – $200
**SEX SIREN (OTA) The decade? the 90s. The color palate? Neon. The category? Sex siren. Bring it in all Neon and if we put you under black light you better be glowing . . .
TROPHY
CASH CATEGORY – $200
SCHOOL BOY REALNESS (TRANSMEN) 🎶 Now this is a story all about how, you serve school boy realness to get your tens now. 🎶 Bring it in a look inspired by the Fresh Prince of Bel Air
TROPHY
COMENTATOR VS COMENTATOR (OTA) Do you think you have what it takes to run the ball? Come show us why YOU are that head bitch in charge. Commentators must be original and creative
TROPHY
(Visited 1 times, 1 visits today)
Related Events