Anti-Proliferative Therapy for HIV Cure
January 22, 2019 @ 5:30 pm

-

7:00 pm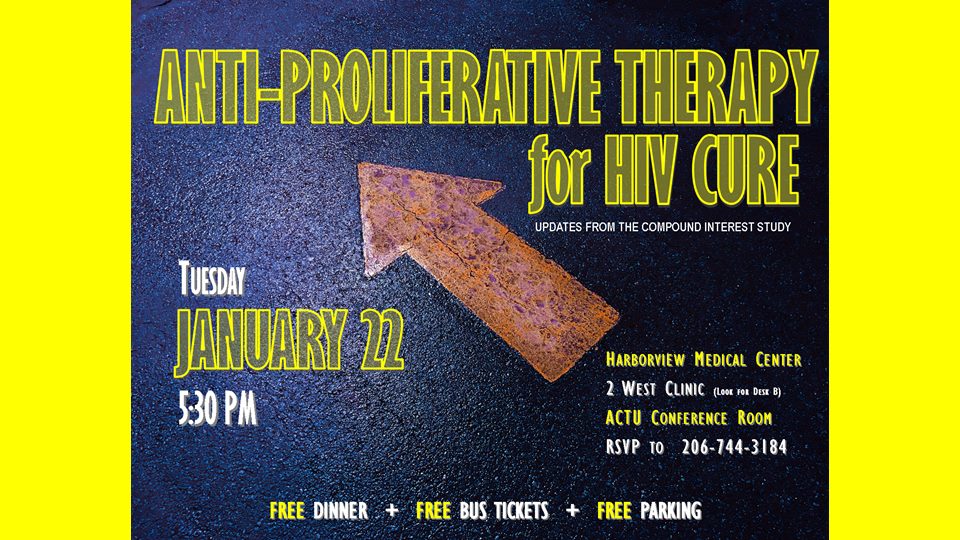 For our first community meeting of 2019, we will hear and discuss updates from a small HIV cure-related study to be conducted by two local scientists, Drs. Josh Schiffer and Florian Hladik, that was funded by a $200,000 amfAR grant to test whether a drug already approved for another purpose can shrink reservoirs of HIV.
The drug is an anti-proliferative agent called MMF (mycophenolate mofetil).
MMF is a licensed drug used in people to treat rheumatologic diseases, as well as prevent rejection after solid organ transplants and prevent graft-vs.-host disease after stem cell transplants.
It works by limiting T-cell proliferation, and the Fred Hutch scientists behind this study hypothesize that slowing the replication rate of latently infected T cells will shrink– and may even eventually eliminate — the reservoir.
In a paper published online in the journal Scientific Reports, they called the strategy a 'compound interest cure,' alluding to the small changes over time that lead to big savings.
Now, to understand what they mean, you have to remember that current cure strategies are aiming for dramatic abrupt one-time reductions in reservoir size.
Using mathematical modeling of HIV dynamics, these scientists demonstrate that a cure strategy offering modest but continual reductions to the size of the reservoir will result in a cure faster than the one-time dramatic drops.
It is one of those proverbial "outside-the-box" ideas that has been slowly gain traction among other scientists, as increasing evidence suggests more and more that HIV persists in the body while on antiretroviral therapy due to the normal process by which cells grow and divide to replenish lost cells.
Next Tuesday we will be lucky enough to have Dr. Hladik come to our meeting to explain their ideas about the way we might reduce the HIV reservoir, discuss the updates they have from the small pilot study they have been conducting here at the UW ACTU and get your input into the next steps they should take with their research, if it proves to be successful in reducing the reservoir—and, perhaps even more importantly, if it shows no effect.
Our meeting will be held on Tuesday, January 22nd at 5:30 PM.
We hold them in the ACTU Conference Room on the 2nd Floor of the West Clinic at Harborview.
Don't forget we offer you free dinner, plus free parking passes to get you out of the View Park Garage or free bus tickets to get home.
And you can easily RSVP for this meeting on this Facebook event page.
Hope you can join us next week as we kick off 2019 with a discussion of this curative strategy under investigation locally!
Related Events