Art Haus Semi Final: Glitter Gulch @ Timbre Room
June 25, 2022 @ 6:00 pm

-

9:30 pm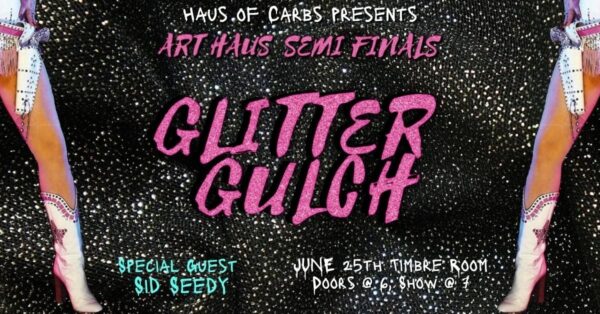 Haus of Carbs presents
ART HAUS: Semi-Finals! GLITTER GULCH
Doors at 6, Show at 7
Special Guest – Sid Seedy
FEATURED HAUSES
Haus of Bucci
Haus of Ass
Haus Cat
The Melted Forest
Shining, shimmering, splendid- it's the ArtHaus Semi-Finals y'all. After the first wave of artistic anarchy, our original 8 has been narrowed down to the fan fave 4. But who among these Hauses can take it to the next level in their quest to become the champion of chaos? WHO WILL MOVE ON TO THE FINAL FINALE? Haus of Carbs invites you to find out Pride Saturday at THE GLITTER GULCH.
Pride weekend overload got you stressing about what to wear? This month anything goes at THE GLITTER GULCH, so long as you catch that light! Join our Hauses as we all saunter into the sanctum of sparkle- bust out your rhinestone cowboys, your pearl handled dildos, the childhood bedazzler you dug out from your mom's basement. When in doubt, try an ArtHaus standby- wrap yourself in duct tape and roll around the clubs until you pick up just the right amount of dazzling debris. The goal of the Gulch is craft store crystal clear- like the glitter itself, make sure we can't get rid of you.
……………………………………
SAFER SPACE The following actions or displays of behavior will not be tolerated: bigotry, racism, sexism, transphobia, homophobia, misogyny, and ableism.
CONSENT Consent is required when interacting with others. A person's choice of self-expression is not an invitation for non-consensual touching. Any form of harassment including leering, rude comments or touching will be dealt with, and anyone caught harassing other patrons will be given a lifetime ban from our club. Our staff is here to support you.
PHONES For the sake of the vibe during dance parties, we ask that you avoid using your phones or taking photos anywhere on the dance floor. Feel free to use your phones on the patio.
………………………………………
To stay in the loop about upcoming events, ticket giveaways, and more, sign up for the Kremwerk + Timbre Room Complex mailing list! 
http://www.kremwerk.com/
(Visited 2 times, 1 visits today)
Related Events