ArtHaus 6.0: Fruit Cake
December 7, 2019 @ 7:30 pm

-

10:00 pm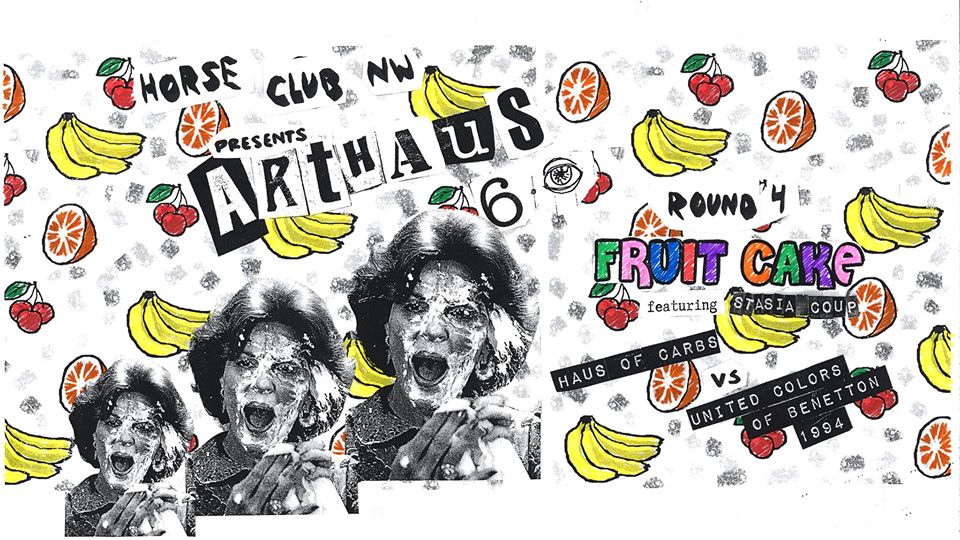 ╚╝╔╗╚╝╔╗╚╝╔╗╚╝
HORSE CLUB NW
presents
ArtHaus 6.0: Fruit Cake
with special guest
STASIA COUP
╔╗╚╝╔╗╚╝╔╗╚╝╔╗
🍰 TIX: http://bit.ly/ArtHausFruitCake 🍰
Arthaus: Drag Haus Battle Royale is back for season 6-6-sickening! Hosted by 5.0 winners Horse Club NW, ArtHaus pits eight teams of drag freaks, geeks, and chic-s in a year-long competition where your vote determines whose haus reigns supreme!
After giving us a whale of a show in November, IHOPPPP has emerged from the depths as your third semi-final team! Now one preliminary round remains to determine our tops and bottoms of the season.
ROUND 4
₪₪₪₪₪₪₪₪₪₪₪₪₪₪₪₪₪₪₪₪₪₪₪₪₪₪₪₪₪₪₪₪₪₪₪
HAUS OF CARBS vs UNITED COLORS OF BENETTON 1994
in
ArtHaus 6.0:
FRUIT CAKE
₪₪₪₪₪₪₪₪₪₪₪₪₪₪₪₪₪₪₪₪₪₪₪₪₪₪₪₪₪₪₪₪₪₪₪
You didn't ask for it, but your old aunties Moggie and Beau are bringing it to you anyway. For our final round of preliminary competition, we're mincing meat and keeping it merry and gay with ArtHaus FRUIT CAKE! We've asked our hauses to pull out those best-kept secret numbers that they've had stashed in the back of their closet, stewing in alcohol. December's round is a holiday special like none other, with tributes to fruits, sweets, and other holiday treats. Better hold on to your rum pah pum pums!
HAUS OF CARBS is
Glambrosia Salad
& Thistle Thornbox
UNITED COLORS OF BENETTON 1994 is
Rowan Ruthless
& Hoochiepapa
Performances by
HORSE CLUB NW
Beau Degas
& Bitch Hazel
Special Guest:
Stasia Coup
$9/advance, $13/at the door
Doors @ 7pm / Show @ 8pm
—————————
Kremwerk
1809 Minor Ave.
Seattle, WA
kremwerk.com
21+
—————————
Sign up for the Kremwerk + Timbre Room Complex mailing list on our website, to stay in the loop about upcoming events, ticket giveaways and more!
………………………………………
Kremwerk strives to be a safe space. The following actions or display of behavior will not be tolerated: bigotry, racism, sexism, transphobia, homophobia, misogyny, ableism, as well as the disrespect of the rules of consent. Our staff is here to support you.
Kremwerk is currently not an ADA accessible space. Club entry is through a flight of 12 metal stairs, with two small steps leading into the main part of the club. We have 2 restrooms with a total of 3 stalls and 1 urinal, all gender neutral. If you would like access to single-stall restrooms, please don't hesitate to ask our door & security to allow entry upstairs into Timbre Room, which has 2 single-stall gender-neutral restrooms.
For any questions about safety & accessibility, please email info@kremwerk.com.
Related Events