ArtHaus: Clown Car @ Kremwerk
August 13 @ 7:00 pm

-

9:30 pm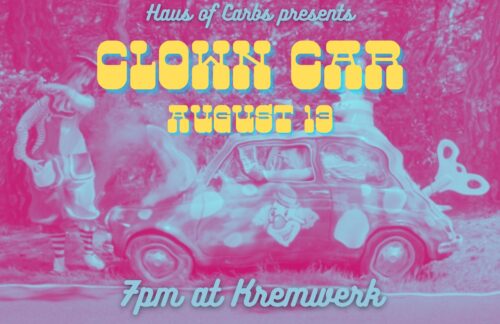 BeepbeephonkhonkAWOOOOGAA!
Because we didn't think this season of ArtHaus was quite silly enough, Haus of Carbs brings you the most sensationally stupid, slippy, slappy show of the year. We searched out the finest Clowns we could find and slammed them all into the clown car that is the Kremwerk basement. Coulrophobes beware! Don your outrageously big shoes and squirting flowers for a naughty night of onomatopoeic mania & mischief!
Special guest goofballs & goblins:
The Imperial Mr Gay WA King Leo Mane
Ivori Chapel
Scary-Ann
Beau Degas
& your resident hosts and court jesters
Glambrosia Salad
Thistle Thornbox
This is an 21+ event
……………………………………
VACCINATIONS Proof of vaccination is required to attend the venue. Read more: 
https://bit.ly/KWCovidPolicy
SAFER SPACE
The following actions or displays of behavior will not be tolerated: bigotry, racism, sexism, transphobia, homophobia, misogyny, and ableism.
CONSENT
Consent is required when interacting with others. A person's choice of self-expression is not an invitation for non-consensual touching. Any form of harassment including leering, rude comments or touching will be dealt with, and anyone caught harassing other patrons will be given a lifetime ban from our club. Our staff is here to support you.
………………………………………
To stay in the loop about upcoming events, ticket giveaways, and more, sign up for the Kremwerk + Timbre Room Complex mailing list!
http://www.kremwerk.com/
………………………………………
Kremwerk is currently not an ADA-accessible space. Club entry is through a flight of 12 metal stairs, with two small steps leading into the main part of the club. We have 2 restrooms with a total of 3 stalls and 1 urinal, all gender-neutral.
Related Events