Back of the House ft. Riz Rollins and Gold Chisme
September 23, 2021 @ 8:00 pm

-

1:00 am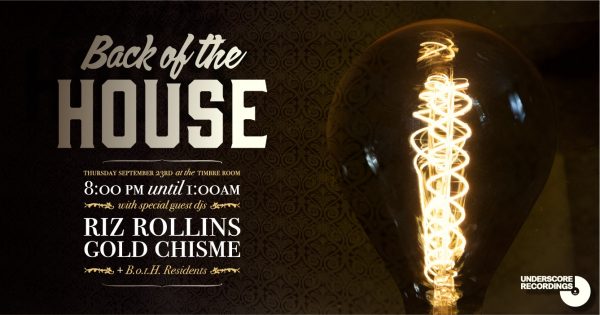 Vibe:
A night of music, dancing, and spending time with friends. Back of the House is meant to be a safe space to gather after work, unwind, and lift your vibe through music. Decor will feel something like a modern speakeasy. The patio will be open and is encouraged for use as a space to chat, relax, gather and connect with friends.
Music:
Back of the House will be focused on providing a quality dance music experience for our guests, rooted in House and its sub-genres. We hope to entertain our guests with music and styles that are varied yet balanced by curating DJ lineups that will compliment each other to create a unified vibe for the night.
$10 at the door. Proof of vax required.
The talent at your service….
♫⁺
・*:..。
♫⁺
*゚¨゚゚・*:..。
♫⁺
*
VACCINATIONS
Upon entry, we will require proof of vaccination. A vaccination card or photo of your vaccination card must be presented at the door in order to enter. The proof of vaccination must match your valid form of ID. You must have received your final shot more than 14-days prior to the event.
Once inside, you will not be required to wear a mask or social distance once inside our venues, unless you wish to do so by choice. Your safety and comfort is our priority. Masks can make a fabulous accessory on the dance floor! Email info@kremwerk.com if you lose your vaccination card at our space and we will do our best to try to find it.
We will continue to clean all surfaces at the end of each night and sanitize all areas. We will have sanitization stations throughout the venue as well. For more information, please read the venue's full COVID-19/Vaccination Statement: 
bit.ly/KWCovidPolicy
SAFER SPACE
The following actions or display of behavior will not be tolerated: bigotry, racism, sexism, transphobia, homophobia, misogyny, and ableism.
Consent is required when interacting with others. A person's choice of self-expression is not an invitation for non-consensual touching. Any form of harassment including leering, rude comments or touching will be dealt with, and anyone caught harassing other patrons will be given a lifetime ban from our club. Our staff is here to support you.
PHONES
For the sake of the vibe during dance parties, we ask that you avoid using your phones or taking photos anywhere on the dance floor. Feel free to use your phones on the patio.
♫⁺
・*:..。
♫⁺
*゚¨゚゚・*:..。
♫⁺
*
To stay in the loop about upcoming events, ticket giveaways, and more, sign up for the Kremwerk + Timbre Room Complex mailing list!
http://www.kremwerk.com/
♫⁺
・*:..。
♫⁺
*゚¨゚゚・*:..。
♫⁺
*
Timbre Room is ADA accessible with a ramp to the front door/bar area, and access to the back door/dance area through the patio area, and 2 accessible gender-neutral restrooms available. For any questions about safety & accessibility, please email info@kremwerk.com.re
(Visited 1 times, 1 visits today)
Related Events