BeautyBoiz go BOO, pt. 5
October 26, 2019 @ 9:00 pm

-

2:00 am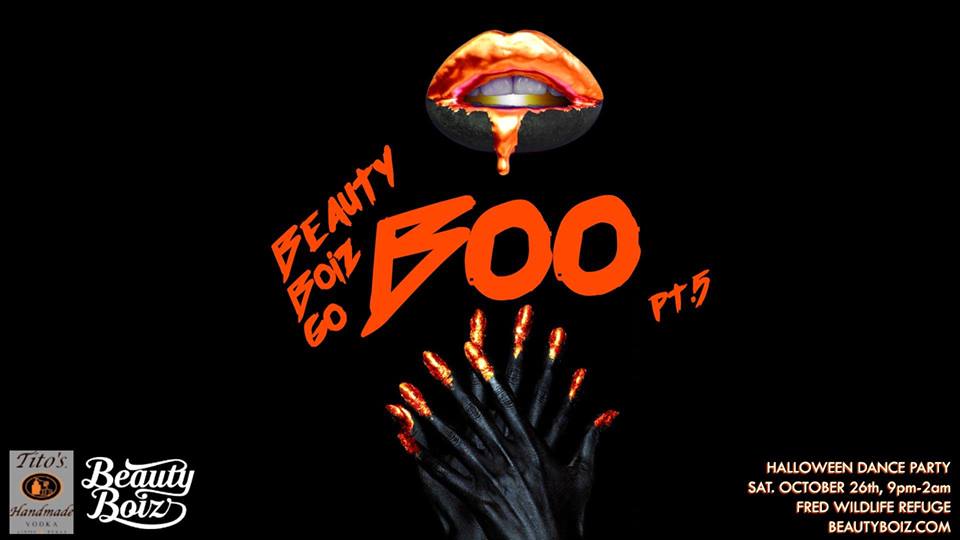 Get your costume ready queers, because it's time for our 5th annual Halloween Costume Dance Party! On Saturday, October 26th, the BeautyBoiz are back at Fred Wildlife Refuge (128 Belmont Ave. E, Seattle WA 98102) with BeautyBoiz go BOO, pt. 5. The event will feature a 30min Drag Spooktacular at 10:30pm, a dance party with DJ PAPA.WAV and DJ Cookie Couture, and an open BeautyBoiz Runway at 12:30am with a fashion photographer to capture your lewk. The party is sponsored by Tito's Handmade Vodka. VIP tickets holders will have access to a dedicated entrance, VIP viewing area for the drag show, free coatcheck and a free Tito's cocktail.
The Drag Spooktacular will feature Ron Gatsby, Purple Lemonade, Arson Nicki, CarLarans, LuChi, Hot Pink Shade, Angela Visalia, Michete, Monday Mourning, Lavish Leone, and more. Installations by Sugar Darling.
In addition to the drag show, runway extravaganza, and killer dance party, there will be gogo performances and appearances from local legends throughout the night (gag over those costumes henny), a 2 floor venue featuring spooky installations and multiple bars, a 60' wrap around projection screen featuring art from Rajah Makonnen, Tito's drink specials all night, and a photo booth. As always, bathrooms will be gender neutral.
The time has come to go BOO with the BeautyBoiz once again.
BeautyBoiz is a project of Forward Flux Productions, a 501(c)(3) non-profit live arts production company.
(Visited 2 times, 1 visits today)
Related Events