Best You've Ever Seen "Foxy Brown" Bear Axe & Adra Boo (dj)
August 31, 2019 @ 8:30 pm

-

1:00 am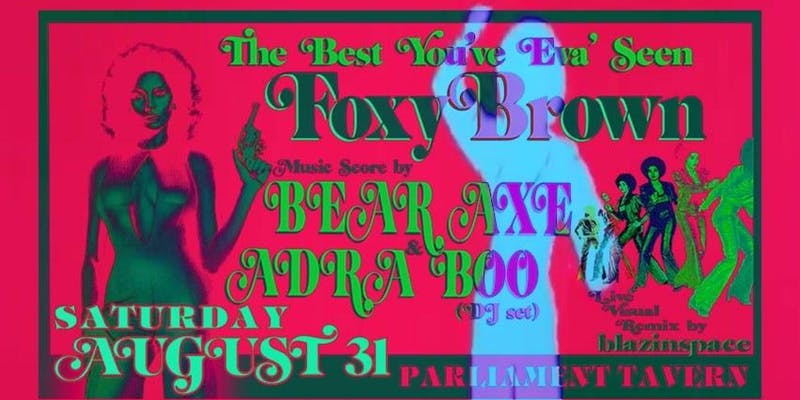 Note: Not a specific LGBTQ event and not a specific LGBTQ venue but open to all
Movie Starts at 9pm Tix are $10 advance, $12 at the door
"The Best You Have Ever Seen" is a monthly event at Parliament Tavern on last Saturdays featuring 1 BAND and 1 DJ's re-imagined score for a cinematic masterpiece (visually remixed live)
Our AUGUST installment, Saturday August 31st will feature "FOXY BROWN" BEAR AXE & Adra Boo (dj set)
Why Foxy Brown?
James Bond is a black woman and her name in 1974 was "FOXY BROWN" (director Jack Hill, starring Pam Grier as Coffy)
Coffy started as a nurse in the first film. She watched her sister become addicted to heroin, and was disgusted by the people who got her sister hooked. Coffy disguises herself as a prostitute to kill the dealers and dirty cops who are peddling drugs into the city. There is intrigue and espionage, strong black woman kicking-ass action. And a twist ending,
but THIS FILM – "FOXY BROWN" picks up a few months later, and really masters some of what they aimed for in "Coffy" and takes the boss level, to bigger boss level, to bigger boss level to new heights for the 70s. In a lot of ways I see the CRANK movies taking from these films when it comes to the humor in the fight scenes, however the subject matter in Foxy Brown is way darker when it comes to the serial nature of the criminal threats she receives and the vulnerable situations she is in. She finds very creative ways to get herself out of trouble. 007 like, but with more balls. And by that, I mean she takes off someones.. You get the picture.
There's some not-perfect film making in this movie for sure but the resilience of Coffy; her drive to stand up for those she sees suffering, and her ability to kick a ton of ass, deliver the one liner and look fantastic at the same time- surpasses, for me, actors like Clint Eastwood and Bruce Willis. Pam Grier saying "Death is too easy for you bitch, I want you to suffer" hits me so much harder than Clint's "well do you feel lucky punk" And in the middle of this murder stuff it's actually super fun, and as 70s as it gets. This movie is great and you are going to see it the best you ever have AUG 31!
BEAR AXE self identifies as a three piece and a biscuit, combining the bone shaking vocals of soul- singer Shaina Shepherd with an electrified fusion of funk, jazz and proto-punk.
Their debut EP "Last Call" is an unapologetically chaotic story of Black Feminism produced by Grammy award winning, rock and roll legend Jack Endino. BEARAXE has been rocking dive bars across the Northwest since the summer of 2016 — headlining shows at historic Seattle venues like The Central Saloon, Hardrock Cafe, Chop Suey and Tractor Tavern — all while merging their unique brand of storytelling with the low-lit grit of the Seattle grunge movement. Push play – https://bearaxe.bandcamp.com/releases
ADRA BOO will be performing a very special DJ set (a very rare treat!), as well as bringing her incredibly royal, unpredictable, sexy and loud Emcee skills to the stage. This woman has an incredibly poetic and powerful voice, and a deep knowledge of music. All adjectives and descriptors aside, a million words couldn't describe this energy and how it makes you feel when she performs. I swear I've seen her leave the ground. Prepare to find yourself outside of your shell, floating above the crowd. We cannot wait to hear what she envisions as the new soundtrack for "Foxy Brown".
Blazinspace has a history dazzling the Parliament Tavern crowd with their projection mapping tricks with such bad ass musicians as Afrocop and Bill Horrist, and this will truly be something special to see! Blazinspace is the alter-ego of filmmaker and visual artist John Theroux. They use a combination of their own films and animations with movies, iconic imagery, and projection mapping tricks to transform space into an immersive experience. But this night it will ONLY be "FOXY BROWN"
Their visuals have been featured at Bumbershoot, Upstream, Kremfest, Look Up Fest, Capitol Hill Block Party, in Band in Seattle, with Sounds of a Generation (Chicago) and New Music Monday LIVE (Coffee Cup Productions) seeblazinspace.com
From VJ blazinspace:
This venue is wheel chair accessible – I can also reserve seating for anyone who needs it, please just DM me a couple days before the show or when it comes to mind. If you hard of hearing or deaf Please contact me. I can make this a close captioned experience but it takes some prep time (happy to do it!)
If attending please be aware of the scents that you carry into a space, that can be quite intense for some people. We have not used a smoke or haze machine for this event yet, that may be something we add, just fyi. I think it's probably assumed but I should also say – Strobe and Flashing Imagery warning – we are going to get pretty intense as the night progresses – Please also let me know if there is a specific issue there, it's possible I can make that easier for you
♥ blazin
Related Events