Bi Bi Bi Comedy Showcase @ Vermillion
June 22 @ 7:30 pm

-

9:30 pm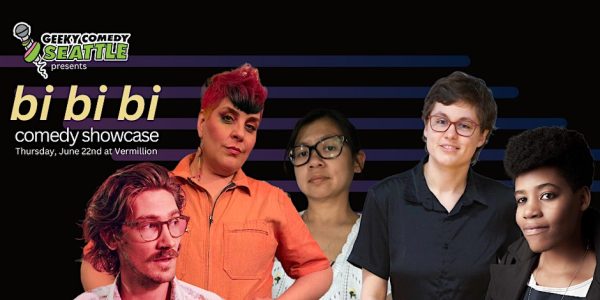 A comedy showcase featuring Seattle's funniest bi performers and maybe future boy's band, I haven't asked them yet!
Geeky Comedy Seattle Presents: a Bi Bi Bi (A comedy showcase featuring Seattle's funniest bi performers!)
Line-up:
Hosted by AJ Norris
Comedy by Jaleesa Johnson, Jonathan Logerstedt, Tambre Massman, and Theresa Flores; with special guest Jessie Earl and musical interlude by Valerie Benti.
Details:
Doors at 7:30 pm, show at 8 pm
Presale: $10 students/$15 general
Door tickets: $15 students/$20 general
Location: Vermillion, 1508 11th Ave, Seattle
*****
About the performers:
AJ Norris
Jaleesa Johnson has become known as Seattle's lesbian Pete Davidson due to her raunchy and self-depreicating humor, as well as the fact that her much more attractive girlfriend is likely the source of her recent success.
Jonathan Logerstedt has a name you'll get right on the second try! He believes in you! A hot chocolate lover seasonally, he is a comedian, sex cymbal, and spelling bee dropout year round. His friends describe him as "either crazy or a genius" and his enemies describe him as "Probably European". You can find him charming audiences with whimsy in comedy clubs, scary bars, and Thai restaurants all over the Pacific North West.
Tambre Massman
Theresa realized she was bi about the same time she realized she wasn't cut out to work in a lab (but she is fairly certain the timing is coincidental). Instead of becoming a physicist, she has had an eclectic career in education, publishing, and internet memes. After years of never getting cast in the shows she auditioned for and subjecting her physics students to cat jokes, she officially started doing comedy in the fall of 2019. When she's not tutoring students or on stage, Theresa is usually found in a library or on a ddr machine.
Jessie Earl
Valerie Benti
(Visited 16 times, 1 visits today)
Related Events