Bottom Forty Close Friends Campout 2023 7/13-16
July 13 @ 3:00 pm

-

July 16 @ 4:00 pm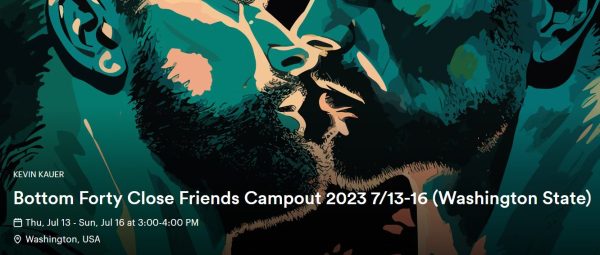 We've added an extra night, Thursday night, to the weekend to make for 3 nights and 4 days! Thursday night will be a bonfire social gathering, the rave times will be saved for the weekend.
Bottom Forty Presents…
The Close Friends Campout
After a beautiful first time, we bring back to you a private cruisey campout for the heads, the dancers, the rugged and the regal, just north of Seattle. Join us on queer-owned and operated, private remote and beautiful land with wide open fields for camping, forests for exploring, sunny creeks to tan by, fire pits, private bar, disco barns and more. This is an expertly curated experience for you and our "close friends" to escape the limitations of your city parties and let loose, safely, together.
Where
Forest Creek, 75 mi north of Seattle, specific location will be revealed to ticket buyers, it's a quick and easy drive.
When
From late afternoon Thursday July 13th until late afternoon Sunday July 16th, 2023
Who
Event space is limited and vetted and select to ensure a private, safe, and off the record weekend of fun and togetherness for all.
What
The Close Friends campout will consist of multiple events, performances, locations on the wide reaching grounds and more, with time in between for happy hours, socials, and what-have-you.
How
Close Friends Campout is exactly that, a campout, you must provide your own camping scenario accomodations (tents, chairs, sleeping needs, etc).
WE WILL PROVIDE
The bar (for purchase) and water (Free), a free Sunday brunch meal, the land, the parties, outdoor shower, fire pits, bbq's, cast-iron pans, patios, lawn games, hugs, lazers, make outs and safety needs. And of course an incredible soundsystem rig by Jules to keep us thumping under the stars.
GLAMPING YURTS
Nine pre-decked out glamping yurts are available for rent if you wish to show up and have the basics taken care of! Yurts can fit 2-4 people, The yurt buyer will have a ticket included but everyone else in the yurt must have a ticket to the event, yurts are $650 for 3 nights.
Lineup
Nark (Bottom Forty)
Arson Nicki (SEA)
Luis M. (PHX)
Orso (PDX)
Steve Seigel (SEA)
Ben Garnero (SEA)
LAKEVERETT (SF)
Mouthfeel (SF/ATX)
Fisher Bryce (VAN)
+ many more TBA
HOSTS
Damian Dragon (NYC)
Tickets are $185 for the entire weekend per person (3 nights, 4 days), parking passes are limited so please arrange carpools and buy one pass, we should be able to fit everyone if at least 2 people per car, but 3-4 would be very helpful.
Come out and let us take care of all your needs and wants and dance desires!
(Visited 206 times, 1 visits today)
Related Events