Bryce Dessner's Triptych (Eyes of One on Another) @ The Moore
October 9, 2019 @ 8:00 pm

-

11:00 pm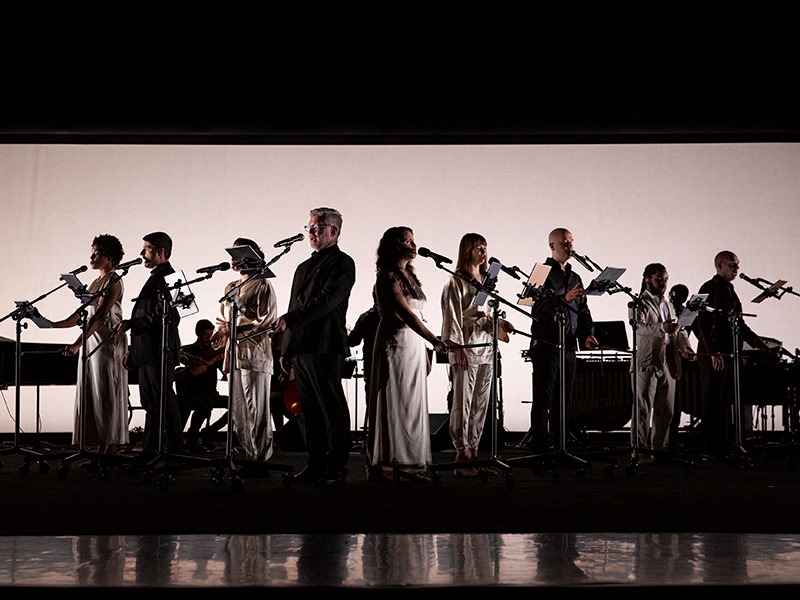 STG Presents Bryce Dessner's Triptych (Eyes of One on Another) at The Moore Theatre on Wednesday, October 9, 2019 as a part of our 2019-2020 performing arts season.
Reserved Seating
All Ages / Bar with I.D.
$42.50 – $72.50 single tickets –> bit.ly/TriptychSTG19
$83.00 – $50.00, as a part of a season subscription (prices include fees)
Groups of 10+ save! Learn more here –> stgpresents.org/events/group-tickets
————————————————————–
Composed by Bryce Dessner
Libretto by Korde Arrington Tuttle
Directed by Kaneza Schaal
Produced by ArKtype
in Cooperation with The Robert Mapplethorpe Foundation
Associate Director Lilleth Glimcher
Associate Music Director William Brittelle
Set & Costume Design by Carlos Soto
Lighting Design by Yuki Nakase
Video by Simon Harding
Production Management by William Knapp
Associate Lighting Design Valentina Migoulia
Video Engineer Moe Shahrooz
Dramaturgy by Talvin Wilks & Christopher Myers
Music by Bryce Dessner is used with permission of Chester Music Ltd.
Thirty years after the death of Robert Mapplethorpe, we still cannot turn away from what his photos reveal. Composer Bryce Dessner, librettist Korde Arrington Tuttle, director Kaneza Schaal and designer Carlos Soto, in collaboration with Roomful of Teeth and an eight-member musical ensemble, seek to capture the ways Mapplethorpe's works compel an audience's complicity and characterize them in the act of attention. Growing up in Cincinnati, Dessner's own exposure to the protests surrounding this galvanizing artist rooted a lifelong kinship to his pivotal body of work. Mapplethorpe's pictures both unite and divide, provoking a consideration of perceived opposites – black/white, male/female, gay/straight, art/porn, classical/contemporary. His pictures seduce, shock, offend, excite, intrigue, and scare us all at once. Triptych (Eyes of One on Another) asks an audience to experience these reactions collectively. Through music, Mapplethorpe's images, poetry by Essex Hemphill and Patti Smith, and use of both theatrical and photographic lighting techniques, the work puts the audience inside the artist's viewfinder, inside his beautiful, bold, voracious view of how nature and humans look, touch, feel, hurt and love one another.
"Witty and wicked…forbidding and seductive…Dessner is at his best…The language is stylized and extravagantly poetic, matching the photographs' explicit sexual content while meeting their cool elegance with punk Romanticism." – The New York Times
An ArKtype Production, produced in residency with and commissioned by University Musical Society, University of Michigan, Ann Arbor, MI. Co-produced by Los Angeles Philharmonic, Gustavo Dudamel, Music and Artistic Director. TRIPTYCH was co-commissioned by BAM; Luminato Festival, Toronto, Canada; Stavros Niarchos Foundation Cultural Center, Athens, Greece; Cincinnati Opera, Cincinnati, OH; Cal Performances, UC Berkeley, Berkeley, CA; Stanford Live, Stanford University, Stanford, CA; Adelaide Festival, Australia; The John F. Kennedy Center for the Performing Arts for performance as part of DirectCurrent 2019; ArtsEmerson: World on Stage, Emerson College, Boston, MA; Texas Performing Arts, University of Texas at Austin, Austin, TX; Holland Festival, Amsterdam; Wexner Center for the Arts, Ohio State University, Columbus, OH; the Momentary, Bentonville, AR; Celebrity Series of Boston, MA; and residency development through MassMOCA, North Adams, MA.
*Disclaimer: Triptych will contain a frank discussion of sexuality, queer identity, and race, and may include photographs taken by Robert Mapplethorpe depicting sexuality, sexual acts, nudity, flowers, and classical portraiture.
EDUCATION & COMMUNITY EVENTS
STG & OTB Present: The work of Robert Mapplethorpe, a Community Discussion
Sunday, October 6, 2019
4 pm
On the Boards (100 W Roy St, Seattle, WA 98119)
Free / RSVP Required!
Join Sylvia Wolf (Henry Art Gallery, Exec. Director) and Michelle Dunn Marsh (Chief Strategist, Photographic Center Northwest) in discussion about the influential and controversial works of Robert Mapplethorpe. Mapplethorpe's photography explored themes of sexuality, race, identity, nature, classic portraiture and modern art exploration to name a few. In celebration of Bryce Dessner's TRIPTYCH (EYES OF ONE ON ANOTHER) On the Work of Robert Mapplethorpe Featuring Roomful of Teeth at the Moore Oct 9th, we'll dive into the impact of this work on art and in our society. This discussion will be at On the Boards on October 6, 2019.
For questions about this community discussion please contact studentprograms@stgpresents.org
(Visited 1 times, 1 visits today)
Related Events