Building Creative Power with Never Again Seattle
March 7, 2020 @ 2:00 pm

-

5:00 pm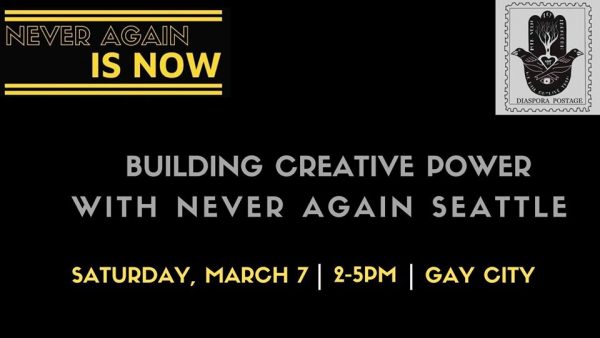 Never Again Seattle, in solidarity with La Resistencia and WA Immigrant Solidarity Network -Red de Solidaridad de Inmigrantes en WA, is ramping up the next steps of our campaign to end ICE, and we are excited to share the details for our upcoming gathering on Saturday, March 7:
Join us for an afternoon of writing and art making to share the personal and ancestral stories that brought you to organize for migrant justice.
Through an artistic and storytelling framework, we'll kick off our campaign to demand that Martin Selig stop renting to ICE by creating postcards that we will deliver to him. Come ready to write, draw and/or paint your story on original, larger-than-life, hand-printed "postcards" that we'll photograph and deliver to Selig. Artists in our network will guide us through prompts that call upon our Jewish histories and values to present the multitude of reasons we say Never Again Is Now, and offer Selig an opportunity to join us by refusing to rent offices to ICE.
ACCESSIBILITY: The space we have secured, Gay City, is fully wheelchair accessible, including bathrooms. Find more detailed accessibility information about Gay City here: https://www.gaycity.org/accessibility/.
We are also committed to, at minimum, using accessible language, taking regular breaks, and normalizing consent culture. We cannot guarantee a scent-free space, but will do our best to continue to educate our community to minimize chemicals and scents in the space (please see https://brownstargirl.org/fragrance-free-femme-of-colour-genius/). It is important to us to know if there are members of our community interested in being a part of this network who need ASL, CART, materials in advance in accessible formats, childcare, or other accommodations. Please let us know how you learn and participate in groups best. Also, since accessibility is done best when disabled folks are part of the organizing, email us if you would like to help make sure that this organizing is accessible to our full community. If there are any accessibility needs that you'd like to tell us please let us know here when you RSVP!
CHILDCARE: We will be offering childcare for children over 2 years old. If you're in need of childcare or can help provide childcare, please let us know in the sign-up form!
FOOD: We'll have food available, including gluten free, vegetarian, and dairy free options! If you have any allergies or dietary needs we should know about, please let us know when you RSVP!
RSVP: To join us and to indicate capacity to support this effort, fill out this form by March 2: https://docs.google.com/forms/d/1p73VbJY0yPsBvknZ-0ry9Yxiup_-RqeVJg07j7Nl2NY/edit?ts=5e4194d7
Related Events