Capitol Hill Pride Festival March & Rally
June 27, 2015 @ 10:00 am

-

11:00 pm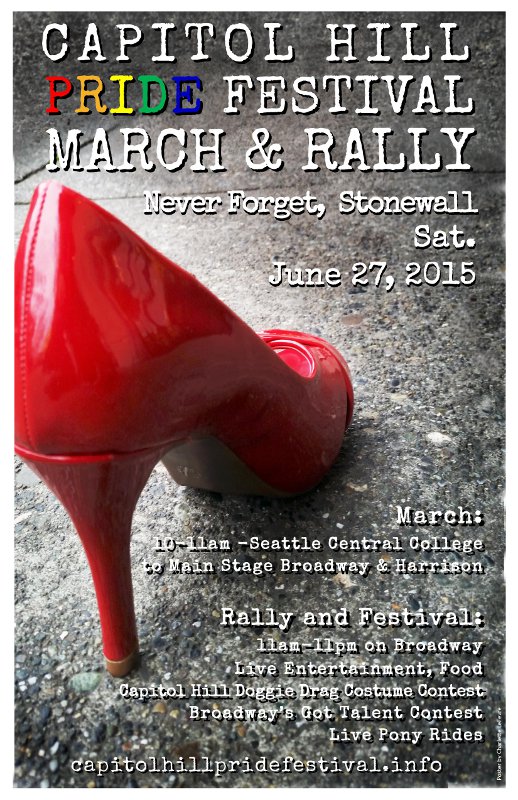 Capitol Hill Pride Festival March & Rally 2015
Sat. June 27, 2015 
10am-11pm
Six blocks on Broadway of food, vendors and entertainment

Annual Features:
The annual Capitol Hill Pride Festival Doggie Drag Costume Contest to benefit the Seattle Humane Society's Pet Project
The Rainbow Women's Health Fair
Julia's Restaurant and LaCocina Entertainment Stages
Pony Rides – Professional rides by Seattle Pony Party planned on the West side street of Harrison and Broadway with four live ponies and two horses.
Tentative  Schedule 2015
(subject to change)
10-11am Capitol Hill Pride Festival March
 March from Seattle Central Campus to Main Stage on Harrison. "Never Forget" 1969 Stonewall with speakers and history.
The Capitol Hill Pride Festival March will be an all ages, all orientations, all gender/transgender civic march with no fees open to the public.
The march has no fees as the Directors of the festival feel an individual should not have to pay a fee to march, demonstrate or show civic and community pride.
Seattle has not had an all gender inclusive LGBT march for many years since the Parade started charging fees thereby shutting out individuals and low budget organizations.
Marchers are encouraged to bring hand written signs.Participants: Seven the Appoloosa, Trent Davis MC, Laura Ingles Wilder representing Intersex gender, Dan Kemmis
11am Opening
 Rainbow City Band , Trent Davis MC, RingSide Spoken Word, Speakers: Laura Ingles Wilder

Stonewall:RingSide – by Nikkita Oliver (K.O.) & Nikki Etienne (Momma Nikki)Spoken word poetry brought to you by the co-creators of RingSide.
 12:00-12:30
  Puddletown Squares
12:30 – 1pm1-2pm

11-1pm

1-2pm

12:30 – 1pm TBA
1-2pm Capitol Hill Pride Festival Doggie Drag Costume Contest benefitting Seattle Humane Society Pet Project.
Judges: Trent Davis– MC
Gina Tzodikov of Seattle Humane Society
Dr. Erica Anderson of Jet City Animal Clinic
Kevin Haywood f Jet City Animal Clinic
Franny Fleishman of Mudbay11-1pm Register at the Seattle Humane Society Booth and MaxMobile (spot 110 in front of Cross Roads Exchange)
1-2pm Judging at Main Stage and Winner announced
2-3pm Imfamous Hip Hop
Based out of the Pacific North West, Imfamous is a Master of Ceremonies that makes and performs exclusive material throughout his mixtapes,features and live performances.
www.imfamousmusic.com
2-3pmRingside Slam
2-3pm RingSide Slam
Nikkita Oliver (K.O.) & Nikki Etienne (Momma Nikki)RingSide Slam is a new head-to-head poetry slam in Seattle. One that combines the elements of Hip-Hop & Poetry, while giving all the power back to the audience.
The AUDIENCE will be the judge & each artist goes head-to-head in a single elimination.
 7:30-8pm
7:30-8pm Women's March
 8:00-10pm
8:00-10pm Steppenwolf Revisited – Born to be Wild Band
Featuring original members of Steppenwolf and Pegasus.
10-11pm 
10-11pm "Rainbow Light Art Walk" on Broadway. Demonstrate your pride with a rainbow of lights.
Light art work on display and Festival attendees are encouraged to wear lights and show their true colors.
Related Events