Cinco de Mayo Fundraiser Fiesta!
May 5, 2019 @ 5:00 pm

-

12:00 am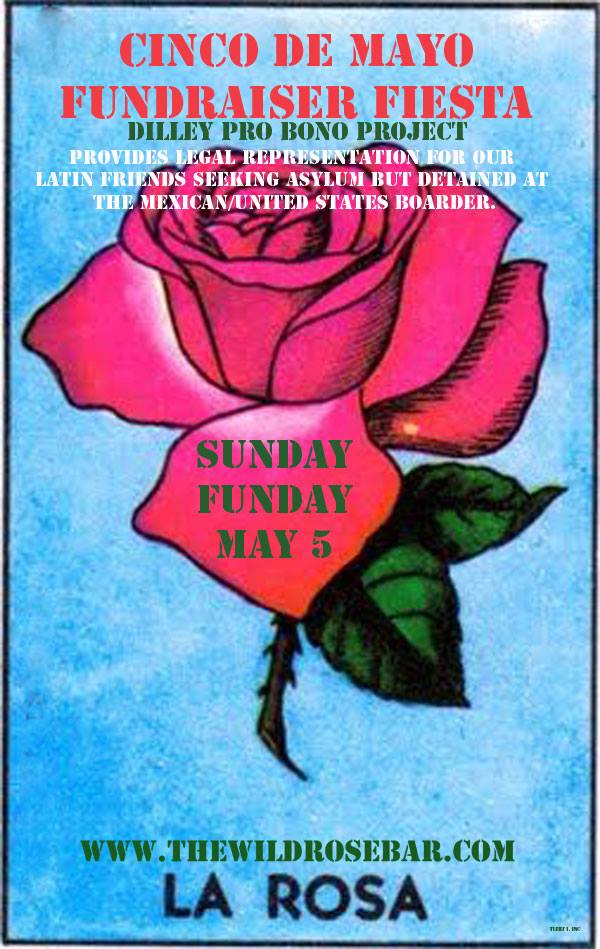 Want to make a difference outside of Our little world?! On Sunday Funday, May 5th come to the "Cinco de Mayo Fundraiser Fiesta!" Play Loteria (Mexican Bingo) and join in on the Fiesta de Baile (dance party) for a great cause!
Bring all your Amigas and Amigos, Tu Mama and Your Abuela!
Donations will be taken at the door for the Loteria and the Fiesta de Baile. All Monies donated at the "Cinco de Mayo Fundraiser Fiesta" will go to the Dilley Pro Bono Project (DPBP). Please bring CA$H for the Bingo Cards and Door Cover. ATM is available.
About Dilley Pro Bono Project (DPBP) in Dilley, TX is a partner of the American Immigration Council. DPBP provides free legal services to our Latin Friends seeking asylum but detained in the South Texas Family Residential Center (a detention center). People at this Detention Center are all Women and Children. Many of these people don't understand what is happening to them thru this process because of the language barrier. So getting bilingual legal help is very important.
This is a great opportunity to help out, while relaxing on Sunday Funday! Maxine Bar Queen and Ceasar Hart will be hosting the Loteria! Mexican Bingo winners will enjoy prizes by local Seattle businesses! Our updated list of Bingo Prize Donators are…
Heartbeet in Queen Ann
Twilight Exit in Seattle
Neighbours in Capitol Hill
The Wildrose Bar In Capitol Hill
Clock Out Lounge on Beacon Hill
Pettirosso in Capitol Hill
Castle Megastore in Capitol Hill
Outwest in West Seattle
Art by Candice Johnson in Seattle
Johnson Ridge Inn & Vineyard in Walla Walla, WA
Cafe Vita in Capitol Hill
Via Tribunali Nepoloean Pizzeria in Capitol Hill
This list is updated daily. If we get more prizes than our Bingo Game can handle we will have a raffle at the DANCE PARTY!
Bingo will be Followed by a Latin/American Dance Party with Mz ArTiz and Lady Jane DJ playing Latin and American party music hits! Partner dancing is encouraged!
Tacos and Mexican beer will be available through out the event, as well as other foods and beverages!
We have a Photos Booth with photo props for You and Your Friends to enjoy!
Also side street PARKING is always FREE on Sundays if Your the designated driver.
Fiesta location is at The Wildrose Bar,
1021 E. Pike St.
Seattle, WA. 98122
In Capitol Hill, cross street is 11th Ave.
If Your Not able to attend on Cinco de Mayo/May5th please consider donating to "Dilley Pro Bono Project 2019" GoFundMe Page. Your donation will be kindly appreciated. This GoFundMe Page will remain available for some time after the Cinco de Mayo Event is over, for Your convenience. https://www.gofundme.com/dilley-pro-bono-project-2019
More information about American Immigration Council: The American Immigration Council, a 501(c)(3) nonprofit, is a powerful voice in promoting laws, policies, and attitudes that honor our proud history as a nation of immigrants. Through research and policy analysis, litigation and communications, and international exchange, the Council seeks to shape a twenty-first century vision of the American immigrant experience.
Related Events