Control Room Ft. Black Velveteen @ Kremwerk
November 24, 2021 @ 10:00 pm

-

1:00 am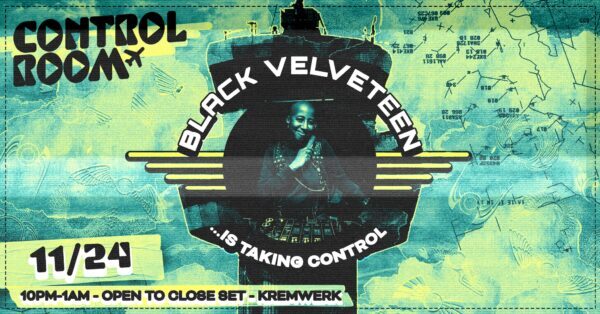 Hello Control Room, your new weekly destination for house & techno EVERY week at Kremwerk featuring an open to close set from your fav DJs.
Tickets at the door only!
$5 before 11 PM, $10 After
$8 Beer-Shot Combo
Discounted Wells
~ About Black Velveteen ~
Before she became Black Velveteen,
Chris Offutt was born and raised on the South Side of Chicago. Her parents introduced her to a wide range of music; Motown to Mozart and everything in between. Some frequently featured artists in young Chris's house were Aretha Franklin, Fleetwood Mac, Stevie Wonder and James Taylor. Current influences include Chris Fortier, Steve Porter, Wild Culture,Juliet Sikora, Mathias Meyer, Inxec, Milty Evans, Stimming
From a very young age she dreamed of hosting her own radio show. In 2011 that dream came to fruition when she had her own show " Progressions in House" on FNOOB based out of London.
She is a resident for Proton Radio and hosts her own show Integrated.
Chris has enjoyed DJing around the San Francisco Bay Area over the past 5 years. In 2012 she became the resident DJ and musical director at Aloft Hotel SFO. In 2013 Djing in the Pride Parade on the W Hotel float. In 2015 she was asked to perform on the Tantra Stage for Pride in San Francisco. She was in rotation at The End Up and did guest spots and Monarch, The Great Northern and Wish. In 2016 Chris was asked to join AirPusher Collective. She has also done guest mixes for FriskyRadio, ProtonRadio and Elastic Beatz and more.
Whether she is spinning for friends and family in her home or on Parade floats and Art Cars in the dessert for Burning Man or Night Clubs Black Velveteen never fails to delight and inspire her audience! In 2018, her Sunrise Set at Sonic Runway on the infamous Airpusher Art Car was recognized as one of the top 9 sets of Burning Man by Billboard Dance. BV was deeply honored by this mention. She has also opened for headliners such as Blond:sh, Donald Glaude and Mat.Joe
In 2021 she was asked to join the wildly popular Noise Complaint crew in Seattle and was delighted to do so. She also curates dj mixes for Proton on Spotify and Apple Music. This lady is busy!!
………………………………………
MASKS
Due to the Washington State Mask Mandate, masks are now required while one is not actively eating or drinking
SAFER SPACE
The following actions or displays of behavior will not be tolerated: bigotry, racism, sexism, transphobia, homophobia, misogyny, and ableism.
CONSENT
Consent is required when interacting with others. A person's choice of self-expression is not an invitation for non-consensual touching. Any form of harassment including leering, rude comments or touching will be dealt with, and anyone caught harassing other patrons will be given a lifetime ban from our club. Our staff is here to support you.
PHONES
For the sake of the vibe during dance parties, we ask that you avoid using your phones or taking photos anywhere on the dance floor. Feel free to use your phones on the patio.
………………………………………
To stay in the loop about upcoming events, ticket giveaways, and more, sign up for the Kremwerk + Timbre Room Complex mailing list!
http://www.kremwerk.com/
………………………………………
Kremwerk is currently not an ADA-accessible space. Club entry is through a flight of 12 metal stairs, with two small steps leading into the main part of the club. We have 2 restrooms with a total of 3 stalls and 1 urinal, all gender-neutral. If you would like access to single-stall restrooms, please don't hesitate to ask our door & security to allow entry upstairs into Timbre Room, which has 2 single-stall gender-neutral restrooms. For any questions about safety & accessibility, please email info@kremwerk.com.
Related Events