Control Room Ft. GON3R @ Kremwerk
February 10 @ 10:00 pm

-

2:00 am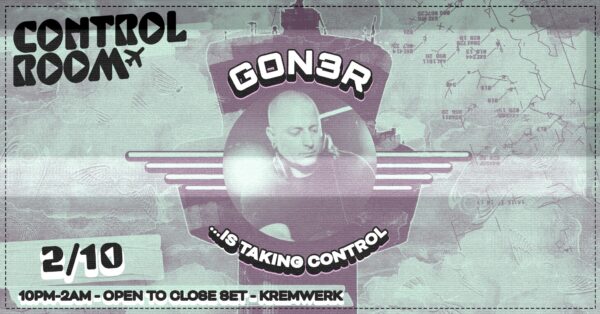 Hello Control Room, your new weekly destination for underground electronic music EVERY week at Kremwerk featuring an open to close set from your fav DJs.
Tickets at the door only!
$5 before 11 PM, $10 After
$8 Beer-Shot Combo
Discounted Wells
~About GON3R!~
GON3R has established himself as one of the pioneers of the dance music scene in the Pacific Northwest since his humble beginnings in 1996. With over 25 years of djing under his belt, GON3R gained notoriety in both local & national markets from his innate ability to spin a wide-range in variety of music and building influential ties to the dance music community in both local and national markets. Whether you were there from the start, or just now beginning to dip your toes into this flourishing "niche" industry – you will be hard-pressed to find a collective, radio show, or music venue that GON3R hasn't touched. If you were rockin' JNCO's watching the walls sweat at Seattle's legendary NAF studio in 1997, too busy dancing to prepare for the world's demise in 2000 at Future Fest in Atlanta, perfecting your shuffle at the Gorge for Paradiso 2014, or grooving in 2021 on the rooftop dancefloor of Monkey Loft, GON3R has provided the meticulous soundtrack to virtually every significant backdrop in the last three decades of Seattle nightlife.
………………………………………
MASKS
Due to the Washington State Mask Mandate, masks are now required while one is not actively eating or drinking
SAFER SPACE
The following actions or displays of behavior will not be tolerated: bigotry, racism, sexism, transphobia, homophobia, misogyny, and ableism.
CONSENT
Consent is required when interacting with others. A person's choice of self-expression is not an invitation for non-consensual touching. Any form of harassment including leering, rude comments or touching will be dealt with, and anyone caught harassing other patrons will be given a lifetime ban from our club. Our staff is here to support you.
PHONES
For the sake of the vibe during dance parties, we ask that you avoid using your phones or taking photos anywhere on the dance floor. Feel free to use your phones on the patio.
………………………………………
To stay in the loop about upcoming events, ticket giveaways, and more, sign up for the Kremwerk + Timbre Room Complex mailing list!
http://www.kremwerk.com/
………………………………………
Kremwerk is currently not an ADA-accessible space. Club entry is through a flight of 12 metal stairs, with two small steps leading into the main part of the club. We have 2 restrooms with a total of 3 stalls and 1 urinal, all gender-neutral. If you would like access to single-stall restrooms, please don't hesitate to ask our door & security to allow entry upstairs into Timbre Room, which has 2 single-stall gender-neutral restrooms. For any questions about safety & accessibility, please email info@kremwerk.com.
Related Events