Cucci's Critter Barn PRIDE EDITION
June 24, 2022 @ 6:00 pm

-

9:30 pm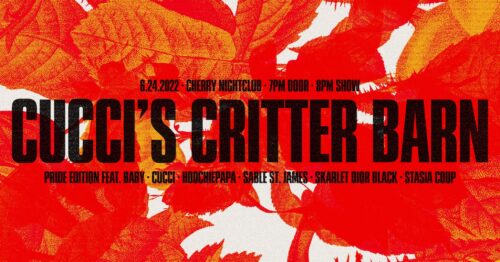 Cucci and Cherry Nightclub welcome you Cucci's Critter Barn PRIDE EDITION. This will be the first pride show in two years.
What started as a drag show for outcast entertainers who couldn't get booked at any other shows in the area, "The Barn" has grown a wide following and proudly showcases some of the best/worst drag entertainers locally and nationally.
Hosted by:
Cucci
Performances by:
Baby (OLY)
Hoochie Papa
Sable St. James
Skarlet Dior Black
Stasis Coup
Artist Bio: Cucci Binaca is an iconoclastic, surreal, post-drag artist and nightlife curator who resides in Seattle, Washington. She debuted in 2013. Critics/fans have noted Binaca as a "mischievous ringleader" "stylishly alarming" and "scary, funny, sexy". She independently produces a monthly drag show, "Critter Barn", a bi-annual horror cannabis themed show "Spooky Weed" and is responsible for THEE queer after hours club moment, S L I P. Flaunting a formidable force of face and fury, Cucci flexes facets that pedigrees and nepotism can't obtain.
……………………………………
SAFER SPACE The following actions or displays of behavior will not be tolerated: bigotry, racism, sexism, transphobia, homophobia, misogyny, and ableism.
CONSENT Consent is required when interacting with others. A person's choice of self-expression is not an invitation for non-consensual touching. Any form of harassment including leering, rude comments or touching will be dealt with, and anyone caught harassing other patrons will be given a lifetime ban from our club. Our staff is here to support you.
PHONES For the sake of the vibe during dance parties, we ask that you avoid using your phones or taking photos anywhere on the dance floor. Feel free to use your phones on the patio.
………………………………………
To stay in the loop about upcoming events, ticket giveaways, and more, sign up for the Kremwerk + Timbre Room Complex mailing list! 
http://www.kremwerk.com/
(Visited 5 times, 1 visits today)
Related Events