Dance Til Dawn @ Kremwerk Complex
October 29, 2022 @ 9:00 pm

-

October 30, 2022 @ 6:00 am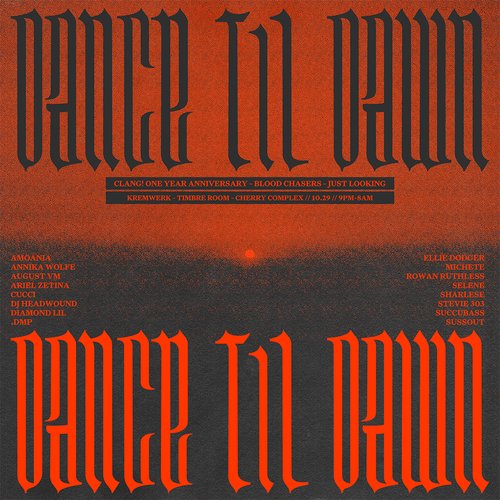 DANCE TIL DAWN
On October 29th, The Complex is ready to CLANG all those living, dead and in between, during this all-night affair. We are JUST LOOKING to devour your hearts and spill your throats across three dance floors of blood pumping electronic music. The death dance begins at 9PM with discounts for BLOOD CHASERS in the door before 1030PM. Are you ready to DANCE TIL DAWN? 11 hours is all that stands between you and sunrise.
SHOWCASES:
BLOOD CHASERS! 9PM-3AM
Timbre Room's new official TS dance party is prepped and ready to drain you dry. Hot T word dj sets by Michete, August VM and resident TS DJ, Ellie Dodger with HOT TS gogo girlie, Dolly.
JUST LOOKING! (PREMIER IN CHERRY) 10PM-430AM
Its been an eternity since a proper queer LOOK party has been at The Complex. Come look. Come be seen. Sonic shock waves provided by Annika Wolfe (LAX), Sussout, and .dmp. Vampy drag performances at 1130PM by Amoania, Cucci, Diamond lil, and Rowan Ruthless.
CLANG! 10PM-6AM
Kremwerk's hard techno and trance party celebrates its one-year anniversary! Featuring Ariel Zetina (CHI) and Succubass along with residents DJ Headwound, Stevie 303, and Sharlese.
EXXXTRA SPECIAL SUNRISE SET by Selene (second nature) in Timbre Room 6AM-8AM
(Visited 5 times, 1 visits today)