Dapper Down Presents Pride Pre Funk Party
June 23, 2016 @ 9:30 pm

-

3:30 am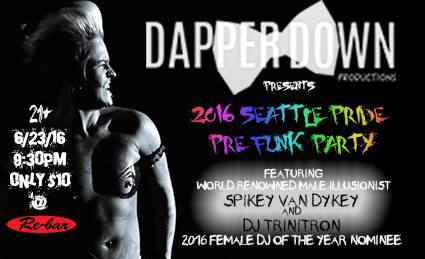 Come out and Kick off seattle pride 2016 right!!!!!!! BEFORE THE CROWDS…BEFORE THE TRAFFIC…… SEE THEM FIRST!!!!!!
We have an AMAZING DJ.(2016 nominee for BEST female Dj of the year DJ TRINITRON) Also A WORLD RENOWNED MALE ILLUSIONIST aka DRAG KING!!!!!!
SPIKEY VAN DYKEY is FINALLY making his Seattle debut ***EXCLUSIVELY*** ….with DAPPER DOWN PRODUCTIONS!
Tickets: http://www.strangertickets.com/events/34015336/dapper-down-kings-pride-weekend-2016
Spikey Van Dykey has been a leading Male Illusionist & Drag King entertainer for over10 years.
He first hit the stage making his debut in Birmingham Alabama at The Quest Club in October of 2000.
He is the former Mys-Her Gay Pride ( BirminghamAL),Mr Phoenix ( Birmingham AL), The King of Hearts 2005 (Tampa FL), and the Winner of SHE King (Miami FL) 2006. Shortly after being crowned, he took a break from the competition arena to persue his role as show director and coordinator of Spikey and The After Midnites, and join the cast of Thee VaudeVillains, a burlesque revue as well as Black Diamond Burlesque. You can check him out on Buzzfeed, Rebel Circus, and in the September 2014 issue of Curve Magazine! Spikey has discovered a way to
combine his love for art, music, self expression, and acting; through a character of his own creation. His love for the art of
gender bending lead him to engineer a new binding technique in 2003, that was soon to be used by kings all over the US and
Canada. A tribal desisgn made to conceal the chest and other secrets to further the illusion. Spikey continues to perform solo
as well as with his cast throughout the South East, at Pride events, and Charity events such as Pensacola Memorial Weekend Unleashed, Gay Days,Savannah Pride, Aqua Girl Miami , Mac Viva Glam, Diva Invasion Orlando UCF, FSU, SU ( Syracuse NY University ) Nikki Beach White Party and has been featured in the documentary "Me as He" and "Spikey Van Dykey: the Documentary." He was recently on a web episode by Magical Elf Productions called "Transfashionable." You can also find him in the 1st issue of Inked.
\/\/\/\/\/\/\/\/\/
\/\/\/\/\/
OUR FEATURED DJ
>>>DJ TRINITRON<<<
http://dj.beatport.com/trinitron
>>Residency
1stSat-BounceBrunch@Blu Grouse
Nominated for Best Female DJ 2013, 2014, 2015, and 2016 Seattle Nightlife Awards: DJ Trinitron has DJ'd in Seattle's hottest spots: Q, ReBar, Monkey Loft, Kremwerk, Last Supper Club, SeeSound, Corbu, LoFi, Electric Tea Garden, Chapel, The Big Building…. Prague, San Francisco, Portland, Lake Tahoe, Bellingham and a sweet weekly night internationally in Iraq! She has also appeared on the ITV Live internet broadcast and The Vortex on C89.5
DJ Trinitron's passion for electronic music began in the early 1990's. She was lucky enough to be able to listen to C89.5, which to this day, plays electronic beats. While attending Seattle University she was also able to experience the underground rave movement. But her true love for Chicago style house came from nights at Flammable at ReBar. Slowly the electro house influence creeped in to Seattle and DJ Trinitron found another love.
The fateful DJ night occurred at an after hours when a friend looked at her and said "you love music too much. Get on these turntables and figure it out". She did, and a few months later bought her first set of equipment. She's spun at multiple nights around Seattle and took it international during her time in Iraq.
Related Events