David Ambroz, A PLACE CALLED HOME @ Elliott Bay Book Company
December 1, 2022 @ 7:00 pm

-

8:00 pm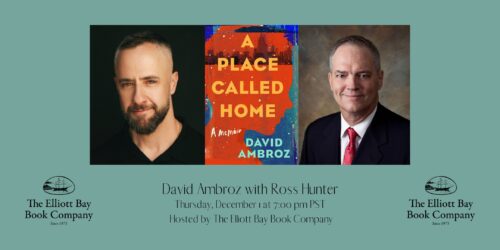 David Ambroz with Ross HunterThursday Dec 1 2022 7:00pm – 8:00pm
Live/In-Person at Elliott Bay Book Company.
1521 10th Ave. Seattle, WA  98122
Today a major national figure on poverty, child welfare, and homelessness, as head at one time or another of advocacy organizations and being an activist/instigator in many places, David Abramoz knows whereof the world he's active about by having lived in homeless, at-risk situations growing up. This story is indelibly told in his new book, A Place Called Home: A Memoir (Legacy Lit/Hachette). 
"A Place Called Home will take your breath away. It's a must read for anyone who's looked at a raggedy street family and asked, 'Who are those people?' It's also for everyone who cares about "Those People." You will fall in love with David Ambroz, his beautifully-told, gut-wrenching story, and his great big heart."―Jeannette Walls.
"A Place Called Home presents an unflinching, frank examination of the realities of being a child without a home and being surrounded by a fundamentally flawed system where neither child nor parent have enough help, or the right help, to break the cycle of poverty. Ambroz's story is a frightening example of how easily inadequate procedures and policies traumatize lives each and every day. The heart of this first memoir is both a raw account of Ambroz's journey to adulthood and a powerful, uncompromising call to action for significant change." ― Booklist.
David will be joined by Ross Hunter. Ross was announced as the new Secretary of the Department of Children, Youth, and Families by Governor Jay Inslee on July 6, 2017, and his official appointment began August 1, 2017. Prior to that, Ross served as the Director of the Department of Early learning since September 2015. Ross' focus is on improving outcomes for all children, and especially on eliminating race and family income as predictors of progress and success for young learners. He is passionate about investing upstream in proven prevention strategies, using strong data and outcomes analysis to administer these programs, and supporting a strong workforce of caregivers and professionals to deliver the services that ensure fewer children experience trauma and more families can build resilience and succeed together.
Buy Books
(Visited 1 times, 1 visits today)
Related Events