Depth 3-Year: Zenker Brothers | 10 PM – 10 AM
August 30, 2019 @ 10:00 pm

-

August 31, 2019 @ 10:00 pm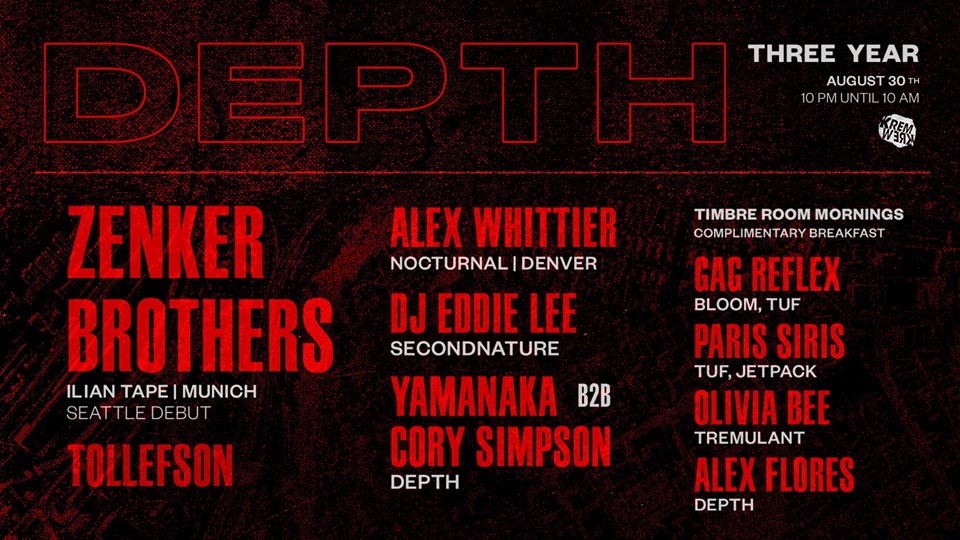 DEPTH Seattle is celebrating its three-year anniversary with a 12-hour party featuring…
ZENKER BROTHERS [Ilian Tape | Munich]
https://www.residentadvisor.net/dj/zenkerbrothers
ALEX WHITTIER [Nocturnal | Denver]
https://soundcloud.com/alexwhittier
DJ EDDIE LEE [secondnature]
https://soundcloud.com/edwardvinylhands
TOLLEFSON
https://soundcloud.com/tllfsn
YAMANAKA B2B CORY SIMPSON [Depth]
https://soundcloud.com/raymondyamanaka
https://soundcloud.com/djcorysimpson
Timbre Room Mornings [w/ complimentary breakfast] featuring…
GAG REFLEX [Bloom, TUF]
https://soundcloud.com/djgagreflex
PARIS SIRIS [TUF, Jetpack]
https://soundcloud.com/p_ross
OLIVIA BEE [Tremulant]
https://soundcloud.com/pluviophile_sea
ALEX FLORES [Depth]
Get Tickets: bit.ly/Depth3Year
Combo tickets are available as well which grant you access to Tech Startup w/ DJ Rat, Livwutang & My Flower (upstairs) in Timbre Room.
………………………………………
Kremwerk
1809 Minor Ave.
Seattle, WA
http://kremwerk.com/
21+
………………………………………
Sign up for the Kremwerk + Timbre Room Complex mailing list on our website, to stay in the loop about upcoming events, ticket giveaways and more!
http://www.kremwerk.com/
………………………………………
About…
ZENKER BROTHERS
Since the late seventies, the Bavarian capital has been a non-dwindling source of advanced musical creativity. Especially electronic music "Made in Munich" has gained worldwide reputation through famous artists like Giorgio Moroder, Richard Bartz, Disko B Records or DJ Hell during the last decades, only to name a few. Right now it's time for the Zenker Brothers to emerge from this solid foundation, and share a vision with their own definition of contemporary dance music, in this case Techno, to be exact.
It was the elder one of the brothers, Dario, who first found his way into Munich's flourishing scene of electronic dance music during the late nineties. He was a huge fan of Hip Hop and Dub when he stumbled into the neon lights of the omnipresent Goa parties that got staged in many clubs. His first set of turntables was a gift from his parents at the age of fifteen and he quickly found himself at the other side of the dance floor. In 2006 his younger brother Marco, who also was an enthusiastic supporter of Hip Hop and Reggae music – apart from being quite a talented skateboarder -, went to see Dario perform and fell in love with the unique vibe of Techno and House parties. This night was a crucial turning point in any sense.
It was only a question of time when these two artists and brothers would canalise their creativity and start to work together. In 2007 they founded the label Ilian Tape with some long lasting friends, in order to establish a platform for their own productions, and in 2012 they started playing their notorious B2B sets. Rooted in the legacy of Detroit and Techno, House, Dub, Rap Music and Breakbeats, the two brothers managed to define their own trademark sound over the years with their own productions, and their own way of running a label by building a fundament with patience. Besides focusing on Ilian Tape they have released records on such notable labels as Tresor or Marcel Fengler's IMF imprint. In 2015 they released their first album called Immersion, which was the next natural step and heart project after they moved their two bedroom studios together in 2013.
The brothers never forget their roots, where they came from and the essential meaning of a well-known Munich proverb: "Live and let live", so furthermore they transcend the musical legacy of their hometown into the new millennium, shaping and forming it the Zenkerian way towards something very unique and – even more important – connective.
………………………………………
Kremwerk strives to be a safe space. The following actions or display of behavior will not be tolerated: bigotry, racism, sexism, transphobia, homophobia, misogyny, ableism, as well as the disrespect of the rules of consent. Our staff is here to support you.
Kremwerk is currently not an ADA accessible space. Club entry is through a flight of 12 metal stairs, with two small steps leading into the main part of the club. We have 2 restrooms with a total of 3 stalls and 1 urinal, all gender neutral. If you would like access to single-stall restrooms, please don't hesitate to ask our door & security to allow entry upstairs into Timbre Room, which has 2 single-stall gender-neutral restrooms.
For any questions about safety & accessibility, please email info@kremwerk.com.
(Visited 1 times, 1 visits today)
Related Events