Depth x Tenth Aesthetic: Uun (live) [mord] @Kremwerk
October 16, 2021 @ 10:00 pm

-

2:00 am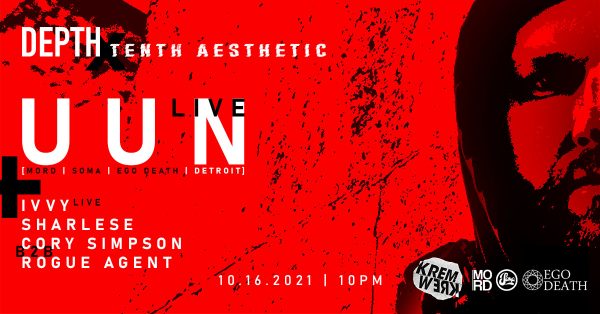 It's happening! Depth and Tenth Aesthetic collaborate to bring you Uun.
Originally scheduled to happen just as the lockdown hit in 2020, we're excited to loop back on what promises to be a massive night at Kremwerk.
Join us for Uun, techno live act IVVY, flagbearers of Depth and Tenth Aesthetic Cory Simpson & Rogue agent B2B, and Depth resident and 10AE favorite Sharlese.
FULL LINEUP:
Uun
IVVY
Sharlese
Cory Simspon B2B Rogue Agent
ABOUT UUN:
Coming up in the music scene of Kansas City and currently residing in Detroit, Uun developed his interest in the fringes of sound as a guitarist in multiple bands before turning his focus to techno in 2012. Both his early work as a band member and his current output as a techno performer share a common exploration of darkness both in mood and in execution. Hard Wax described Uun's sound as a "straight ahead techno juggernaut."
Although he has been producing and performing since 2012, Uun's profile has recently risen substantially, with releases on Mord, Soma, and Modularz. Resident Advisor referred to this ability to work within many different imprints and styles as "quietly infiltrating techno", and compared his music to the latter days of the Sandwell District. As well as releasing on many noteworthy labels, he also has his own imprint to showcase the scope of his productions. Titled Ego Death, the label explores themes of existentialism, duality, and what it means to be an artist in the modern era. Now on it's fifth vinyl release, each strives to create a unique and varied atmosphere.
His live performance is an extension of hard working music first ethos. In this format Uun constructs thousands of studio hours into a powerful contained experience. Each outing can greatly differ as new elements are always added. He has brought this unique approach to underground events all over the USA, as well as choice bookings in Europe at Tresor, Griessmuehle, Gegen, as well as Khidi in Tbilisi. Uun's steady output of productions have long been included in many substantial dj sets, with the most noteworthy being both Blawan and Luke Slater's mixes for BBC Essentials.
………………………………………
MASKS
Due to the Washington State Mask Mandate, masks are now required while one is not actively eating or drinking
SAFER SPACE
The following actions or displays of behavior will not be tolerated: bigotry, racism, sexism, transphobia, homophobia, misogyny, and ableism.
CONSENT
Consent is required when interacting with others. A person's choice of self-expression is not an invitation for non-consensual touching. Any form of harassment including leering, rude comments or touching will be dealt with, and anyone caught harassing other patrons will be given a lifetime ban from our club. Our staff is here to support you.
PHONES
For the sake of the vibe during dance parties, we ask that you avoid using your phones or taking photos anywhere on the dance floor. Feel free to use your phones on the patio.
………………………………………
To stay in the loop about upcoming events, ticket giveaways, and more, sign up for the Kremwerk + Timbre Room Complex mailing list!
http://www.kremwerk.com/
Kremwerk is currently not an ADA-accessible space. Club entry is through a flight of 12 metal stairs, with two small steps leading into the main part of the club. We have 2 restrooms with a total of 3 stalls and 1 urinal, all gender-neutral. If you would like access to single-stall restrooms, please don't hesitate to ask our door & security to allow entry upstairs into Timbre Room, which has 2 single-stall gender-neutral restrooms. For any questions about safety & accessibility, please email info@kremwerk.com.
(Visited 2 times, 1 visits today)
Related Events