Diggin' Deep Feb 29 : Dave Seaman (UK) + Uniting Souls
February 29, 2020 @ 10:00 pm

-

3:00 am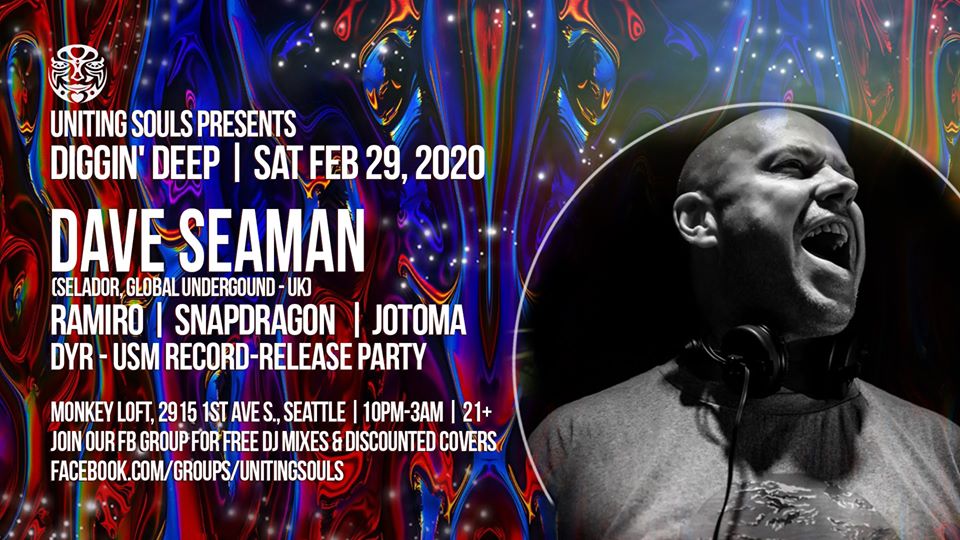 Uniting Souls presents
DIGGIN' DEEP
every last Saturday at Monkey Loft
Saturday 29 February 2020
special guest
(((( DAVE SEAMAN ))))
(Selador Recordings, Suara, Noir, Global Undergound, BBC Radio1 – UK)
https://www.djdaveseaman.com/
local support
SNAPDRAGON – Studio 4/4, Fraktured
www.soundcloud.com/snapdragon
RAMIRO – Uniting Souls
www.soundcloud.com/ramiroseattle
JOTOMA – Way Out Sound
https://soundcloud.com/joe-torra-921228328
DYR – Reflect / Uniting Souls Record-Release Party
https://soundcloud.com/dyr
And in true Uniting Souls fashion, we will also be celebrating the wedding of our friends Tom & Krista on this night! ♥
Monkey Loft, 2915 1st Ave S., Seattle
21+ 10pm-3am
$15 adv at brownpapertickets.com
https://bpt.me/4492927
DAVE SEAMAN is one of the original movers and shakers of the UK house movement. He has been DJing for over 25 years, playing in over 80 countries around the world.
He was the first editor of the clubbers bible, Mixmag, and has remixed and produced for everybody from New Order to Kylie, and David Bowie to the Pet Shop Boys.
He has also done over 20 mix compilations for the likes of Global Underground, Renaissance & BBC Radio 1's Essential Mix. Dave has also been the main man behind the
independent dance music labels Stress Records, Audio Therapy and his new imprint, Selador Recordings.
Quite simply, Dave Seaman is one of the legends of electronic music. Help us give him a warm welcome at his Monkey Loft debut!
SELADOR RECORDINGS
In the crowded electronic music climate, it's hard maintaining a blueprint that helps you stand out from the crowd, but in its short history, Selador Recordings has managed to do just that. The label run by Dave Seaman and Steve Parry has quickly built a reputation as leading exponents of high grade house and techno.
The label's name was inspired from a memorable passage from Richard Kelly's 2001 cult classic movie 'Donnie Darko', where the most phonetically pleasing combination of words in the English language is mooted – Cellar Door. The assertion is that nothing else manages to make our vocabulary quite as beautiful. The idea of 'beautiful sound' through communication struck a chord with the duo, highlighting their own eternal quest for the perfect beat.
The label has released a diverse amount of music from a seriously talented ensemble of established names and exciting young talent. Robert Babicz, Cristoph, Third Son, Dubspeeka, Habischman, Quivver and Piemont are among the people who've been at the helm of the ever developing Selador sound.
Oh and they also found the time to make electronic music history too. Seaman and Selador managed to fund the first ever mix compilation through crowd sourcing, continuing a trajectory of ingenuity and trailblazing in the field which started when Dave became the first ever DJ, alongside Carl Cox, to mix a commercially available mix CD.
Selador Recordings, purveyors of the finest underground house and techno, since forever!
https://www.youtube.com/user/SeladorRecordings
https://www.beatport.com/label/selador/30570
"UNITING SOULS has contributed to setting standards as to what the Seattle electronic music community has to offer on a local and international level. It is because of organizations like Uniting Souls that Seattle is a favorite stop among touring electronic musicians.
With e-mail, smart phones, cheap flights, declining costs in music production, and the explosion of information technology, the face of the global music community is rapidly changing, but it is collectives like Uniting Souls that are evolving right alongside to help define and retain humanness in the often impersonal world we've created."
– The Stranger (Seattle's Largest Weekly)
Related Events