Douglas Stuart discusses "Young Mungo"
May 3, 2022 @ 7:00 pm

-

8:00 pm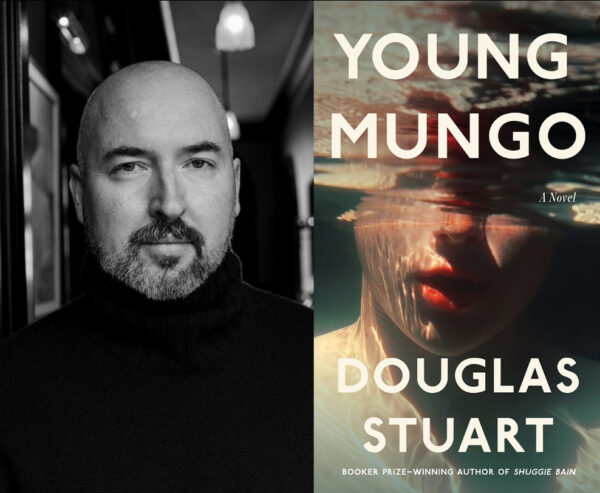 Note: tix to live event are sold out. Online tix available.
Join us to hear this Booker Prize-winning writer discuss his new novel, a story of queer love and working-class families.
About this event
Douglas Stuart will appear in conversation with Rick Simonson.
This event is being presented in person at Central Library, with the option to view the livestream from home. It is presented in partnership with Elliott Bay Book Company. Books will be available for sale at Central Library on the evening of the event, and signed copies may be available from Elliott Bay Book Company after the program. It is supported by The Seattle Public Library Foundation and the Gary and Connie Kunis Foundation. Thanks to media sponsor The Seattle Times.This event will be recorded, captioned and then posted on the Library's YouTube channel after the event.
About the Book:
Douglas Stuart's first novel "Shuggie Bain," winner of the 2020 Booker Prize, is one of the most successful literary debuts of the century so far. Published or forthcoming in forty territories, it has sold more than one million copies worldwide. Now Stuart returns with Young Mungo, his extraordinary second novel. Both a page-turner and literary tour de force, it is a vivid portrayal of working-class life and a deeply moving and highly suspenseful story of the dangerous first love of two young men.
Growing up in a housing estate in Glasgow, Mungo and James are born under different stars—Mungo a Protestant and James a Catholic—and they should be sworn enemies if they're to be seen as men at all. Yet against all odds, they become best friends as they find a sanctuary in the pigeon dovecote that James has built for his prize racing birds. As they fall in love, they dream of finding somewhere they belong, while Mungo works hard to hide his true self from all those around him, especially from his big brother Hamish, a local gang leader with a brutal reputation to uphold. And when several months later Mungo's mother sends him on a fishing trip to a loch in Western Scotland with two strange men whose drunken banter belies murky pasts, he will need to summon all his inner strength and courage to try to get back to a place of safety, a place where he and James might still have a future.
Imbuing the everyday world of its characters with rich lyricism and giving full voice to people rarely acknowledged in the literary world, Young Mungo is a gripping and revealing story about the bounds of masculinity, the divisions of sectarianism, the violence faced by many queer people, and the dangers of loving someone too much.
About the Speakers:
Douglas Stuart is a Scottish-American author. His New York Times-bestselling debut novel Shuggie Bain won the 2020 Booker Prize and the Sue Kaufman Prize from the American Academy of Arts and Letters. It was the winner of two British Book Awards, including Book of the Year, and was a finalist for the National Book Award, PEN/Hemingway Award, National Book Critics Circle John Leonard Prize, Kirkus Prize, as well as several other literary awards. Stuart's writing has appeared in the New Yorker and Literary Hub.
Rick Simonson has worked as a bookseller at Seattle's Elliott Bay Book Company since 1976. He is a book buyer there and also coordinates, with Karen Maeda Allman, Elliott Bay's long-running reading series. Rick has served on boards for the King County Arts Commission, Copper Canyon Press, the Central District Forum for Art & Ideas, Seattle City of Literature, and the University of Washington Press, and has served as a juror for the Pacific Northwest Booksellers Association, Seattle Arts & Lectures, Hedgebrook, the National Endowment for the Arts, the STORY Prize, the National Book Award, and the DSC Prize for South Asian Literature.
Douglas Stuart, Queer Literature, LGBTQ Literature, Young Mungo, Elliott Bay Book Company, Seattle Public Library,
(Visited 1 times, 1 visits today)
Related Events