Eat Food, Make Change: A Fundraiser For Lavender Rights Project
February 20, 2020 @ 5:30 pm

-

7:30 pm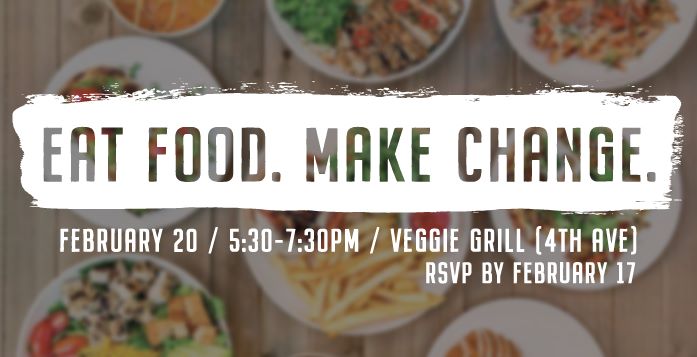 Please RSVP at the link below (same as the event page ticket link) by February 17—we need at least 20 people to commit by this date in order for the fundraiser to happen!
https://www.groupraise.com/events/131744
———————–
𝐓𝐡𝐮𝐫𝐬𝐝𝐚𝐲, 𝐅𝐞𝐛𝐫𝐮𝐚𝐫𝐲 𝟐𝟎 / 𝟓:𝟑𝟎𝐩𝐦-𝟕:𝟑𝟎𝐩𝐦
𝐕𝐞𝐠𝐠𝐢𝐞 𝐆𝐫𝐢𝐥𝐥 / 𝟏𝟒𝟐𝟕 𝟒𝐭𝐡 𝐀𝐯𝐞𝐧𝐮𝐞, 𝐒𝐞𝐚𝐭𝐭𝐥𝐞, 𝐖𝐀
———————–
𝑬𝑨𝑻 𝑭𝑶𝑶𝑫. 𝑴𝑨𝑲𝑬 𝑪𝑯𝑨𝑵𝑮𝑬.
We all know you've been waiting for the perfect opportunity to grab some delicious plant-based food 𝒂𝒏𝒅 support affirming and affordable legal services by and for LGBTQ+ folks in Washington!
On Thursday, February 20, 2020 from 5:30-7:30pm, Veggie Grill's Downtown Seattle location will donate 𝟑𝟑% of fundraiser attendees' purchases back to the Lavender Rights Project.
Check out Veggie Grill's menu here:
https://www.veggiegrill.com/menu.html
———————–
To participate, all you need to do is:
𝐑𝐒𝐕𝐏 𝐨𝐧 𝐨𝐮𝐫 𝐞𝐯𝐞𝐧𝐭 𝐦𝐞𝐚𝐥 𝐩𝐚𝐠𝐞
https://www.groupraise.com/events/131744
𝐒𝐡𝐨𝐰 𝐮𝐩
Once you've committed, come show your support! Bring friends too—even if they haven't RSVP'd online.
𝐈𝐧𝐟𝐨𝐫𝐦 𝐭𝐡𝐞 𝐜𝐚𝐬𝐡𝐢𝐞𝐫 𝐭𝐡𝐚𝐭 𝐲𝐨𝐮'𝐫𝐞 𝐚 𝐬𝐮𝐩𝐩𝐨𝐫𝐭𝐞𝐫
The restaurant only counts sales from supporters during the specified time. Let your cashier know you're a supporter to make sure your meal is counted in the donations!
𝐇𝐚𝐯𝐞 𝐟𝐮𝐧!
Lavender Rights Project staff and board members will be at the restaurant, so take this opportunity to get to know us a bit better!
*Note:
Purchases of alcohol do not go toward the donation percentage.
———————–
𝐀𝐜𝐜𝐞𝐬𝐬𝐢𝐛𝐢𝐥𝐢𝐭𝐲
Information about the restaurant's accessibility will be added by the end of January 2020. If you have specific accommodation requests, please reach out to us at (206) 639-7955 or info@lavenderrightsproject.org
———————–
𝐖𝐞 𝐡𝐨𝐩𝐞 𝐭𝐨 𝐬𝐞𝐞 𝐲𝐨𝐮 𝐭𝐡𝐞𝐫𝐞!
(Visited 1 times, 1 visits today)
Related Events