Fierce as F*ck 2: No thanks, men.
September 7, 2019 @ 8:00 pm

-

11:00 pm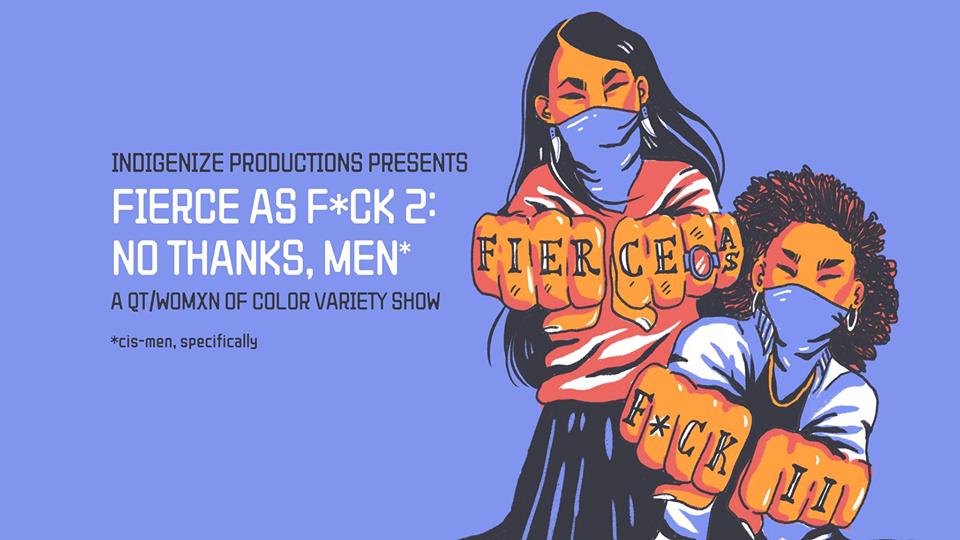 Indigenize Productions presents…
Fierce as Fuck 2: No thanks, Men.
You already know. It has been six months since the first Fierce as F*ck (Womxn are tired of your Sh*t), and it turns out (cis) men are still patriarchal trash.
You got a rapist in the white house, Senators blocked from going to Israel, Missing and Murdered Indigenous Womxn and Girls, Black Trans Womxn under constant threat, Trans people banned from bathrooms, Indigenous migrants and refugees blocked at the border, and––after all that and some more, they **still**expect us to be nice.
Well, F*ck that.
We are Fierce as F*ck, and if they dont like it, too bad for them.
So to all the Fierce as F*ck Queer, Trans, Nonbinary and/or Womxn of Color, we invite you to come be fierce with us.
We will laugh, we will yell, we will rage, and we will celebrate our beautiful selves.
Men, you can come, but you have to pay more.
Tickets:
$10-$50 sliding scale, 21+
Doors at 7:30pm
Show at 8pm
Featuring
Abigail Echo-Hawk [MC]
Lourdez Velasco [Dance/Poetry]
Caféaulait Olé [SMUT]
Kiki Chesty La Rue [Burlesque]
Stéphanie Nam [Comedy]
Delia Gomez [Poetry]
Hailey Tayathy [Drag]
More TBA!
Illustration by IG:@ana_piranha_
***SCENT WARNING***
There will be sage and possibly other types of smoke used during and before the show. We encourage event attendees to not wear fragrances, if possible.
Accessibility Info:
The Annex Theatre is not wheelchair accessible, and has 2 flights of stairs to reach the theatre. There is prioritized seating in the theatre. There are two large steps to reach the bathrooms. The bathrooms are single stall and gender-neutral.
Related Events