Fraktured – Pride Edition!
June 30, 2019 @ 10:00 pm

-

2:00 am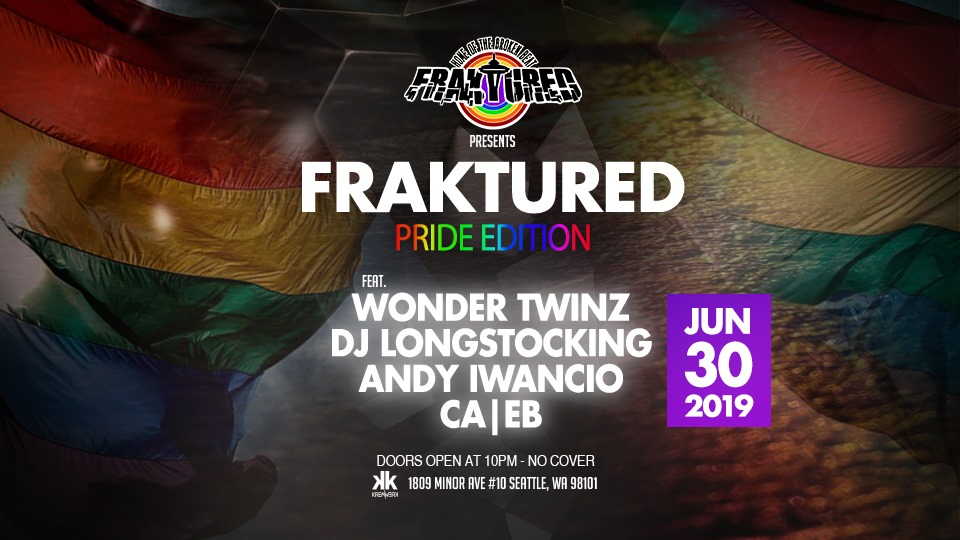 Fraktured – Home of the Broken Beat – every Sunday at Kremwerk and bi-monthly at Monkey Loft!
We celebrate Pride weekend with a line up full of queer, trans and non-binary DJ's!
————————————————————————-
** Wonder Twinz **
soundcloud.com/discodancin
soundcloud.com/dj-artiz
** Andy Iwancio ** – DEBUT!
** Caleb ** – DEBUT!
** DJ Longstocking ** – DEBUT!
—————————————————————-
NO COVER
$1 BEERS – $4 Shots
21+
10pm- 2am @ Kremwerk
VJ Eyesauce – Bringing the eye candy in full effect!
Born on the playa, proven on the stage.
VJ EyeSauce serves up tasty visuals!
VJ Eyesauce
Audio:\\
Soundcloud: https://soundcloud.com/frak-tured
Mixcloud: https://www.mixcloud.com/Fraktured/
Hearthis: https://hearthis.at/fraktured/
Video:\\
Chew: https://chew.tv/fraktured
Youtube: https://www.youtube.com/fraktured
————————————————–
CONSENT, DANCING, PERSONAL SPACE, and BOUNDARIES:
There is zero tolerance for harassing, unwanted touches, gropes, grabs, and repeated unwanted approaches. This is inappropriate behavior here – and anywhere. If you behave in this manner, you will be kicked out.
Ladies (and gentlemen), if you are being harassed, PLEASE TELL SECURITY. They are here for you, and will support you.
How do I know if it's consensual?
1) Anything other than "yes" means "no."
2) Consent is never coerced or forced.
3) Consent is negotiated through each interaction.
4) Incoherent people cannot give consent.
………………………………………
Sign up for the Kremwerk-Timbre Room Complex mailing list on our website, to stay in the loop about upcoming events, ticket giveaways and more!
http://www.kremwerk.com/
Kremwerk strives to be a safe space. The following actions or display of behavior will not be tolerated: bigotry, racism, sexism, transphobia, homophobia, misogyny, ableism, as well as the disrespect of the rules of consent. Our staff is here to support you.
Kremwerk is currently not an ADA accessible space. Club entry is through a flight of 12 metal stairs, with two small steps leading into the main part of the club. We have 2 restrooms with a total of 3 stalls and 1 urinal, all gender neutral. If you would like access to single stall restrooms, please don't hesitate to ask our door & security to allow entry upstairs into Timbre Room, which has 2 single-stall gender-neutral restrooms.
For any questions about safety & accessibility, please email info@kremwerk.com.
(Visited 1 times, 1 visits today)
Related Events