Gay City Arts: Somebody Get Me A Chainsaw
December 14, 2017 @ 7:00 pm

-

9:00 pm

|

Recurring Event

(See all)

An event every day that begins at 7:00pm, repeating until December 17, 2017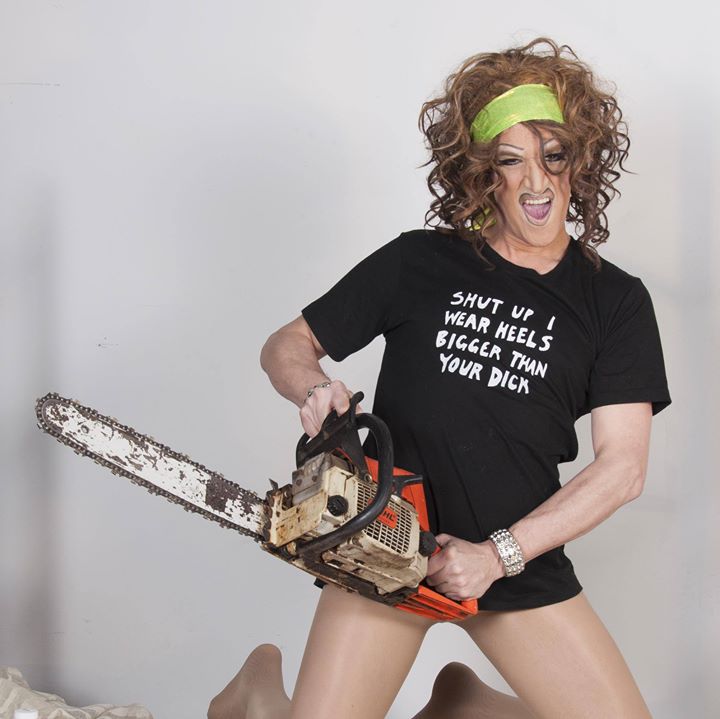 Gay City Arts Presents:
Somebody Get Me A Chainsaw
A One Man Show
by Mark "Mom" Finley
December 14-17
Doors at 6:30pm | Show at 7 pm
General Admission $15-$20
Students, Seniors, People with Disabilities $12
"Beware She's Loose!!!
It's been about a decade since Mark Finley tried to make a comeback; at least 2 decades since she's done a new live show; and she's been stuck in this damn town for nearly 3 – wasn't she supposed to be dead by now?!?! Yet Drag Icon Mark "Mom" Finley is doing a new live show for at GayCity. The evening promises to be full of Finley's unbelievable stories, funny songs, classic performances, and maybe even a giant dildo!! As the "script" will be pulled out of a button bag live during the performance, he won't know what he's performing until that minute! And you wonder why she wants the chainsaw!
Finley is excited to be back onstage again. In October of '92 New City Theatre produced his third one-man show in a row Life Lessons where he held each audience hostage at (unloaded) gun point, had them choose 12 pieces of paper out of a bag with 170 possible stories. He said at the time that he was telling his life story whether people wanted to hear it or not because he didn't know how long he'd be around.
Thanks to wonderful doctors and new medicines he's quite healthy and doesn't seem to be going anywhere. The past show focused mainly on Finley's early life growing up in a small town, traveling the world to follow his dreams only to have it deal him what, at the time, was a losing hand and ending up in Seattle. This new show will cover the past 25 years of his life living in Seattle: everything – the ups and downs – the scandals – the successes – and the surprise that changed his life!"
——————————————-
Accessibility Info: The Calamus Auditorium at Gay City is ADA accessible, has two single-stall all-gender restrooms, and is a fragrance-free space. For more information about accessibility at Gay City, please visit gaycity.org/access
It is Gay City's policy that smoking and use of fragrances are prohibited on Gay City Health Project premises, including all Gay City Health Project sponsored events and activities. The health of some of our staff, volunteers, and clients may be harmed by exposure to cologne, perfume, or other fragrances–which may cause difficulty breathing, migraine headaches, flu-like symptoms and more. These symptoms are not always readily apparent and sometimes show up hours later or persist for days after an exposure.
Coming to Gay City having used fragranced products on your body or your clothing means that those who are sensitive are faced with the choice to stay and get sick or leave and be unable to access important services or do their job. We ask your help in making Gay City accessible to all by coming to Gay City fragrance free.
*Sponsor Tickets: Gay City relies on the generosity of our patrons and supporters to help bring about programs like Gay City Arts. Spending a little more on your ticket will help keep our program running and our ticket prices low.
**Radical Hospitality Tickets are provided as a homage to a concept first pioneered by Mixed Blood Theatre in Minneapolis, meant to "erase economic barriers in pursuit of building a truly inclusive" audience.
About Gay City Arts: Art is the voice, spirit and conscience of every community and is a vital tool for community reflection, dialogue and pride. Through Gay City Arts, Gay City collaborates with local LGBTQ artists to galvanize an audience for queer arts, foster the development of LGBTQ artists and works and facilitate artistic excellence that is accessible. Gay City Arts is committed to presenting challenging, dynamic and excellent queer art across a wide range of disciplines, including theater, music, dance, film, spoken word, literary and visual arts. Learn more: gaycity.org/arts
Related Events