Get That Sh*t Done! Monthly Identity Document Clinic
September 27, 2019 @ 3:00 pm

-

5:00 pm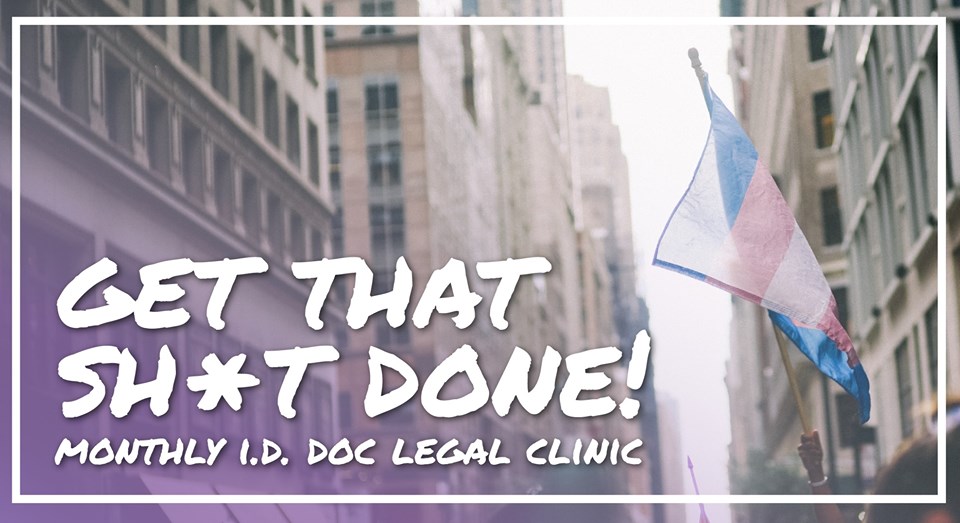 Facebook Event Image Description: Purple gradient over a photo of a city with a person raising a trans flag, overlaying text that reads: Get That Sh*t Done! Monthly I.D. Doc Legal Clinic // Photo by Josh Wilburne
——
Join the Lavender Rights Project for our brand new Get That Sh*t Done! Monthly Identity Document Clinic, held on the last Friday of every month from 3:00-5:00pm at our office. Gain access to:
– up-to-date documentation for state IDs, passports, birth certificates and social security information
– resources to help you navigate the process of updating your name and/or gender marker on various documents
– notaries to get any and all documentation notarized as necessary
– medical providers to review your medical record and sign letters
– staff attorneys to discuss legal issues
Drop in anytime during the clinic to pick up documents and receive one-on-one help with your questions and concerns.
——
ACCESSIBILITY
The Lavender Rights Project office is semi-accessible:
Entrance: 36" doorway, door swings open/closed but is not automatic, no steps
Restroom: Single stall gender neutral, 29" doorway, interior width of 43" between sink and wall, sink height of 31", no bar next to toilet
Layout: Open floorplan with flexibility to easily move tables, chairs, desks, and anything else that may cause limited accessibility throughout the space
Scents: The office is not currently scent-free, but we strongly encourage attendees not to wear perfumes or oils to accommodate our community members with fragrance sensitivities
Please contact us if you have accessibility requests and we will do our best to accommodate.
Related Events