Glamorama, with The Fabulous Downey Brothers and Shanghai Pearl
January 20, 2017 @ 8:00 pm

-

1:00 am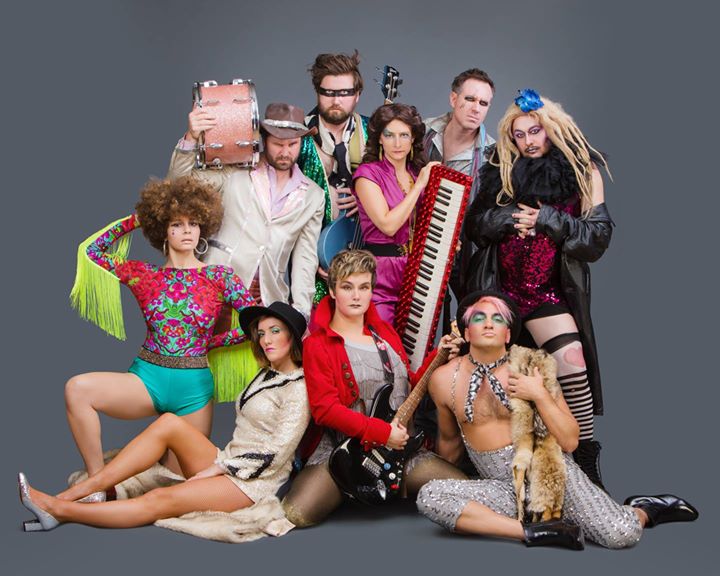 Ok people. In lieu of watching our country piss on everything you believe in by inaugurating Jerkface Balonyzone to office on January 20th, come drown it all out with Queen Shmooquan, the Shanghai Pearl, Rainbow Fletcher, Jess Leotard Klein, Tony James, Tim Keller, Matt Riley, Matthew S Manges, Annastasia Workman, Anna Urband, Sari Breznau, Jeremy Lightfoot, Kathy Moore, Jovie DeVoe, Scarlett O'Hairdye, Bolt Action, and the Fabulous Downey Brothers at the Crocodile!
You may be wondering: What is the Art Martyrs Relief Society? What is Glamorama? What exactly will be going down? Will it be more fun that drowning my sorrows and swearing at the tv all night? Well, let us explain……
The Art Martyrs Relief Society was born out of Matt Riley's ambition to support local artists while having a hell of a good time. He recruited buddies Matt Manges and Sari Breznau to help him find a seriously fun way to put money directly in the hands of local artists making cool stuff happen in our city, but who frequently live in poverty. The idea was hatched to throw an epic rock show, employing some of Seattle's best talent at fair wages, with any funds raised funneled directly to needy members of the art community.
Glamorama is the inaugural event for the Art Martyr's Relief Society. Glamorama will be a huge show, employing over 22 artists in it's creation. Costumers, choreographers, musicians, backup dancers, burlesque stars, guitar shredders, spaz pop icons, and more, all employed by Matt Riley's generosity and serious thirst for fun. Not only that, but all money brought in at the door will be used to start the Art Martyrs Relief Fund, which will be money dedicated to need-based grants available to local artists going through tough times.
The show will consist of burlesque from the Shanghai Pearl, an album release performance by The Fabulous Downey Brothers, and a headlining set from "Proxy Shazam", a one night only tribute to the somewhat obscure but epically awesome Cincinnati based Glam rock band Foxy Shazam. The band consists of some of Seattle's best musicians, including Matt Manges on drums, Jeremy Lightfoot on bass, Kathy Moore on guitar, Annastasia Workman on keys, and Sari Breznau on trumpet. Up front will be a rotating cast of singers, including Tim Keller, Anna Urband, Tony James, and Matt Riley. Rainbow Fletcher and Jess Klein will be dancing. Confetti Canons will be firing. All this costumed by Danielle Blackwell. It is highly recommended that you come prepared by listening to Foxy Shazam in advance so you can sing along to the anthems. Bonus points for coming in costume.