Gothic Barbie Drag Haus: Rainbow Nite
June 30, 2019 @ 7:00 pm

-

10:00 pm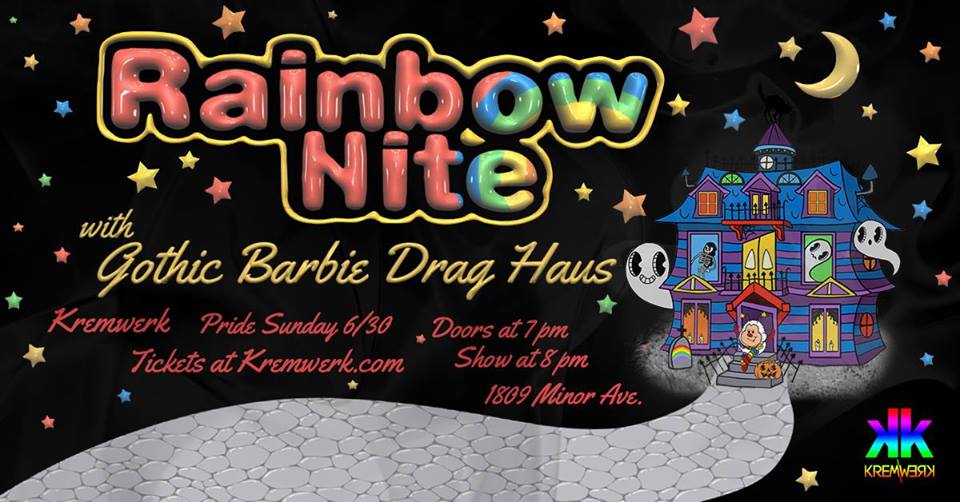 PRIDE at Kremwerk proudly presents:
Gothic Barbie Drag Haus: Rainbow Nite
🌈TIX: bit.ly/GothicBarbiePride 🌈
🖤💀❤️🧡💛💚💙💜💀🖤
🎶 Rainbow Brite! See the shining light! I'm gonna take ya to Rainbow Nite! 🎶
After a weekend full of Pride, Gothic Barbie Drag Haus invites you to spend your post-parade glow at Rainbow Nite, a variety show inspired by the one and only Rainbow Brite. Join us and our otherworldly cast of performers in this creepy, cute, rainbow fever dream.
🖤💀❤️🧡💛💚💙💜💀🖤
🖤 Gothic Barbie Drag Haus 🖤
🌈 Vincent Milay
🌈 Peach E. Mogee
🌈 Lady Miss Kiki
🌈 D'Monica Leone
🌈 Ether Réal
🖤 Featured Performers 🖤
🌈 Val Challah
🌈 Sugar Darling
🌈 Zsa Zsa Dingo (formerly Scotty Moose)
🌈 Lazarus Rise
🌈 Lavish Leone
🌈 Faye Valentine & Si Ren
🖤 Photos 🖤
🌈 Kay Whitney
🖤 Photo Booth 🖤
🌈 Mr. Wacko
🖤 Stage Kitten 🖤
🌈 Penny Banks
🖤 Merch Babe 🖤
🌈 Velvet Revulva
🖤💀❤️🧡💛💚💙💜💀🖤
For a full list of Pride Week events at the Kremwerk + Timbre Room Complex visit: bit.ly/PrideatKremwerk
=====
Kremwerk
Pride Sunday, 06/30/2019
Door: 7PM / Show: 8PM
=====
Kremwerk + Timbre Room Pride 2019
1809 Minor Ave
Seattle, WA
21+
=========
Kremwerk strives to be a safe space. The following actions or display of behavior will not be tolerated: bigotry, racism, sexism, transphobia, homophobia, misogyny, ableism, as well as the disrespect of the rules of consent. Our staff is here to support you.
Kremwerk is currently not an ADA accessible space. Club entry is through a flight of 12 metal stairs, with two small steps leading into the main part of the club. We have 2 restrooms with a total of 3 stalls and 1 urinal, all gender neutral. If you would like access to single-stall restrooms, please don't hesitate to ask our door & security to allow entry upstairs into Timbre Room, which has 2 single-stall gender-neutral restrooms.
For any questions about safety & accessibility, please email info@kremwerk.com.
(Visited 1 times, 1 visits today)
Related Events