Haüsed: DJ Seinfeld
February 20, 2020 @ 9:00 pm

-

2:00 am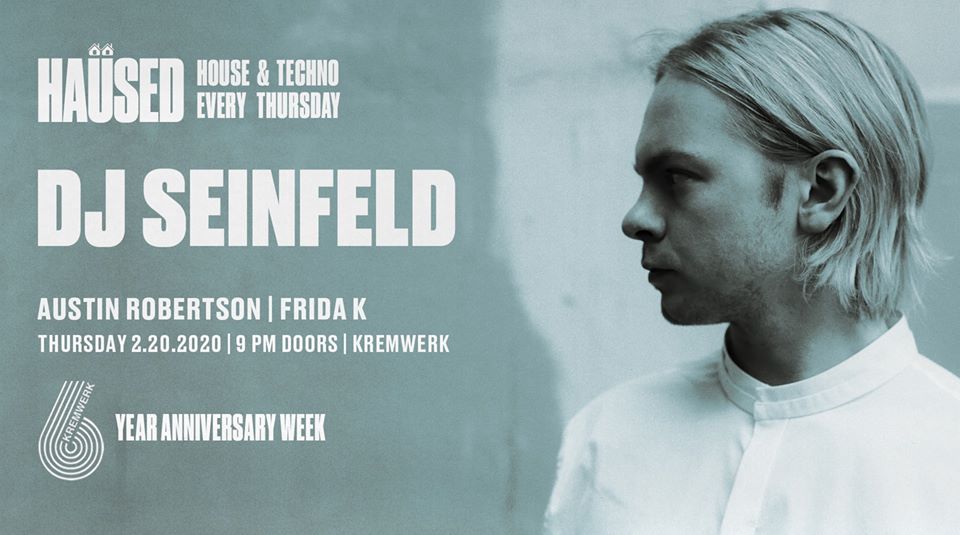 Haüsed invites you to the kick-off of Kremwerk's Six Year Anniversary Week with…
DJ Seinfeld
https://soundcloud.com/dj-seinfeld
support from…
Austin Robertson
https://soundcloud.com/austinrobertsonmusic
Frida K
https://soundcloud.com/frida-k-music
Get Tickets: bit.ly/HausedDJSeinfeld
Kremwerk
1809 Minor Ave.
Seattle, WA
kremwerk.com/
21+
………………………………………
About…
HÄUSED
House & Techno EVERY Thursday at Kremwerk.
https://www.facebook.com/hausedatkremwerk/
DJ SEINFELD
Armand Jakobsson is the artist known as DJ Seinfeld, Rimbaudian and Birds of Sweden. Under these aliases you'll find sweeping emotive cuts, verdant dancefloor workouts and discerning dips into jungle and breaks. Releases have come on respected labels including Meda Fury, Ectotherm, UN.T.O and Lobster Fury: the collaborative label from Lobster Theremin and Meda Fury begun for the explicit purpose of releasing his tracks.
DJ Seinfeld's beats are ultimately guided by an idea of authenticity, true to the spirit of the early house pioneers and the unabashed rawness the confines of their equipment demanded. A lot's been made of this lo-fi fuzz, with many clamoring to declare it a scene, but he won't be put into a box. His path is his own. A microphone picks up the tension and release of a singer: charged with emotion, the machine can't handle it. The rough edges of his productions emit the same sensibility.
Footage of his gigs or their post-show reaction exemplifies the reception he gets as a DJ. Biographies often claim a DJ regularly 'sends crowds into rapture' or 'lays waste to the floor,' but in DJ Seinfeld's case pandemonium is the default. Mixes show his deft control of build-up and feel in the booth, while his mini series for legendary London station Rinse FM in May 'DJ Seinfeld presents…', was a master class in the kind of wonky left-field house he peppers his sets with.
………………………………………
Sign up for the Kremwerk + Timbre Room Complex mailing list on our website, to stay in the loop about upcoming events, ticket giveaways and more!
http://www.kremwerk.com/
………………………………………
Kremwerk strives to be a safe space. The following actions or display of behavior will not be tolerated: bigotry, racism, sexism, transphobia, homophobia, misogyny, ableism, as well as the disrespect of the rules of consent. Our staff is here to support you.
Kremwerk is currently not an ADA accessible space. Club entry is through a flight of 12 metal stairs, with two small steps leading into the main part of the club. We have 2 restrooms with a total of 3 stalls and 1 urinal, all gender neutral. If you would like access to single-stall restrooms, please don't hesitate to ask our door & security to allow entry upstairs into Timbre Room, which has 2 single-stall gender-neutral restrooms.
For any questions about safety & accessibility, please email info@kremwerk.com.
Related Events