HEDWIG & THE ANGRY INCH 6/28 Pride Sunday @ the Crocodile – All Ages!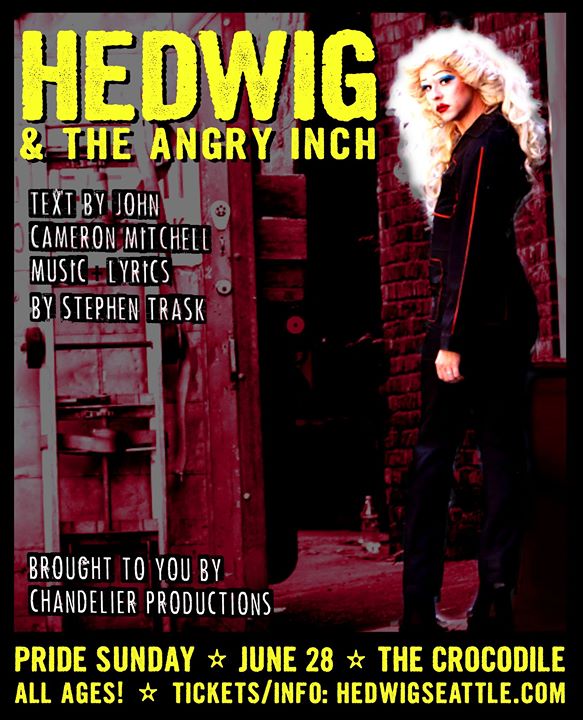 Tickets: https://www.ticketfly.com/purchase/event/818853
Chandelier Productions brings you a one night only performance of the fourth-wall smashing, Tony Award winning Broadway hit "Hedwig & the Angry Inch". Hear the Internationally Ignored song stylist, along with her Angry Inch, sing about the Origin of Love and her Wig in a Box. She will be transmitting on the Midnight Radio, so bring your Sugar Daddy to a gender-bending end to Seattle Pride Weekend.
Chandelier Productions is the company that put on a sold out double-feature run of The Rocky Horror Show and Hedwig & the Angry Inch in 2012 that together raised over $10,000 for Gay City Health, and In 2011, a sold out production of Hedwig at the Crocodile, in partnership with Rudy's Barbershop and The Stranger, raised over $10,000 in benefit of Dan Savage's It Gets Better Project.
Cast:
Directed by Georgina Spelvin
Dustin Schisler as Hedwig
Georgina Spelvin as Yitzhak
Patrick Mackinnon as Krzyzhtof (guitar)
Matthew Bowen as Jacek (guitar)
Ryan Watson as Skszp (bass)
Jack Chandelier as Schlatko (drums)
Seattle Gay Scene touted Chandelier Productions' Hedwig as "pure rock n' roll … a concert of Iggy Pop & David Bowie combined. Fans would die to see this show more than once, but only until next [time] will we see a show of this caliber."
(Visited 1 times, 1 visits today)
Related Events