HYPE
October 10, 2019 @ 7:00 pm

-

10:00 pm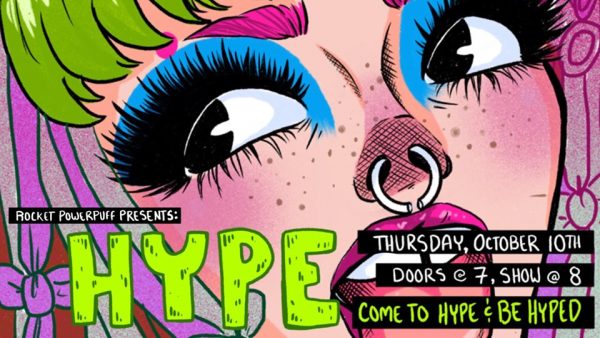 ! ! ! HYPE ! ! !
A HIGH-CAMP QUEER HANG-OUT featuring surprises and prizes, photo-booth and open runway! Looks highly encouraged!!!
💚 TIX: bit.ly/HypeTimbre 💚
HYPE is a different kind of drag experience! HYPE is a space to try out your most *wild* look ideas — your chance to really show your creativity, your personality, and your talent through your look! HYPE is the place to hype others up and be hyped up yourself. Mingle with friends & performers, dance, & take photos!
Performers:
Rocket Powerpuff
???
???
???
*Booth by Mr. Wacko
*Photos by Parade Images
*Poster art by Jelli Monster
HERE'S THE GAG: Performers will be chosen BY Rocket from an open runway during the show. Anyone could be picked! The person chosen wins a performance slot after runway!
Here's how it works:
– Runway is open to anyone who wants to walk and show off their look, even if you are not submitting to perform!
– IF YOU ARE ENTERING TO PERFORM you will be given a smiley face sticker upon entering Timbre Room to indicate to Rocket during runway that you'd like to be considered and have already sent in your track ahead of time!
– Submit your potential track to rocketpowerpuff@gmail.com before October 8th!
– Wear your sticker somewhere visible during your runway walk!
– At the end of runway, 3 people will be chosen to perform (could be based on crowd response, overall impression —just bring your own special magic and show us what you got)!
21+ ⎮ 7PM Door ⎮ 8PM Show
1809 Minor Ave. Seattle, WA 98101
— — — — —
The Kremwerk + Timbre Room Complex strives to be a safe space. The following actions or display of behavior will not be tolerated: bigotry, racism, sexism, transphobia, homophobia, misogyny, ableism, as well as the disrespect of the rules of consent. Our staff is here to support you.
Timbre Room is an ADA accessible space. For any questions about safety & accessibility, please email info@kremwerk.com
(Visited 1 times, 1 visits today)
Related Events