Imminent Mode: US Art Show @ King Street Station
December 10, 2022 @ 10:00 am

-

5:00 pm

|

Recurring Event

(See all)

An event every week that begins at 10:00am on Wednesday, Thursday, Friday and Saturday, repeating until January 5, 2023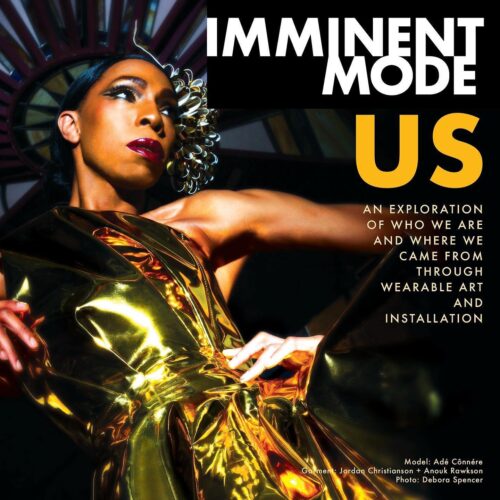 IMMINENT MODE: US
November 3, 2022 – January 5, 2023
Reception: November 3, 2022
IMMINENT MODE: US is an immersive exhibition that pairs built environments with one-of-a-kind fashion. The exhibition features installations by eight teams that explore the broad theme, US, asking artists for a deeper examination of where we've come from, why our ancestors immigrated to this land, and how our cultural differences can find harmony. Each team will explore and celebrate their unique cultural heritage and express that through their work.
"This year's theme US is really about how we can illustrate the diversity, sense of community and creation/collaboration when we work together towards a common goal. We are so excited about the art created and artist teams in the exhibition, they are incredibly talented and showcase the phenomenal artists in the Pacific Northwest."
Jordan Christianson
Curated by Jordan Christianson, Adé A Cônnére, and Anouk Rawkson, IMMINENT MODE: US is comprised of eight creative teams featuring a garment designer and fine artists who collaborate to create a unique piece of couture/wearable art displayed in a large-scale installation based on the theme: US. Each team will also create two additional garments that will be showcased in the opening fashion show.
The diverse, regional/international groups of artists include:
Jordan Christianson + Anouk Rawkson
Mary Anne Carter + Michael Welke
Casey Curran + Devon Yan
ANDROS grant + Bren Bryan
Christopher Vazquez + Aaron Lafferty
Jacob Sutton + Amanda Manitach
Mariel Andrade + Pete Rush
Jordan Christianson + Lilia Deering
About IMMINENT MODE
IMMINENT MODE is a platform for multidisciplinary artists to play with the juxtaposition of creative expression, mediums, cultures, and voices. IMMINENT MODE: US is the sixth exhibition from the collective.
Previous exhibitions displayed at Vermillion Gallery include SIRENS (2016) womxn in music who have inspired us; REVOLUTION/RESIST (2017) team interpretations of how our communities' committed acts of resistance or revolution; LORE (2018) folklore from and inspired by our respective cultures; and FAST FORWARD (2019) hypothesized how politics, society, and religion could change the face of fashion and culture.
Opening Night
Join us on First Thursday, November 3, 2022, 5 – 8 p.m. for a fashion show, DJ, and performance by Adé A Cônnére. Fashion show + performance start at 7 p.m.
Meet the IMMINENT MODE: US Teams
Jordan Christianson + Anouk Rawkson
Jordan Christianson is a Pacific Northwest native, multidisciplinary creative, and couturier to a diverse entertainment and design community. For nearly two decades, Jordan's work has been featured internationally in museums and galleries, on stages, pages, and screens.
Anouk Rawkson is a Seattle-based artist whose influences range from his culture, subcultures, visions, and surroundings. Using mixed media, Anouk's goal is to express his dark sense of humor and irony with an initially perceived innocent image.
Mary Anne Carter + Michael Welke
Mary Anne Carter is a queer Seattle-based artist, curator, and creative consultant. Born with a prominent portwine stain birthmark on her left cheek, she has a lifelong attraction to the odd, unusual, and other. She works with a wide range of materials to create environments and objects that transport the viewer to a brightly colored, boldly patterned utopia governed only by humor, self-expression, and irregularity. Her work has appeared in galleries including J. Rinehart, The Bellevue Art Museum, Museum of Museums, The Factory, The Columbia Tower, NY Art Book Fair, Junior High LA, Get Nice, Mount Analogue, Vermillion, and more. Since 2016, she has worked to elevate emerging and marginalized artists through her gallery and creative studio Party Hat.
Michael Welke is a queer Seattle-based musician and designer. He grew up in the middle of America and always knew, from an early age, that he would move to the big city and find his calling. Upon arriving in Seattle in 1996, he immediately found a home in the vibrant music scene. And has been there ever since. Through music, more specifically, drumming, he found a voice. A voice that allowed him to express his frustrations and the confines of existing in the closet. Eventually, he found the courage to live his truth. This truth has afforded him the space to explore and guide his creative energy into garment construction. He has learned how to appreciate the more delicate, colorful, and vulnerable parts of himself. He works with a wide array of materials, fabrics, textures, and colors. This is his first public show as a garment designer, and he couldn't be more proud.
Casey Curran + Devon Yan
Casey Curran received his BFA in painting and sculpture from Cornish College of the Arts in 2006. He's completed several large-scale public and private works in partnership with Skanska Architects, Mad Art Seattle, Facebook, Oculus Rift, and Security Properties. In 2008, Curran become a key collaborator in the internationally recognized performance art group Saint Genet developing large-scale interactive sets which have been exhibited at the Guggenheim Museum in NY, The Kunsthalle Museum in Krems, Austria, the Luminato Festival in Toronto, Canada, and the Frye Art Museum in Seattle, WA. In 2010 and 2013, Curran was awarded the NY Sculpture Space residency, and in 2010 and 2014, the Artist Trust GAP grant. In 2018 Curran was awarded an artist-in-residence grant at Amazon HQ where he focused on a body of work to be exhibited at the Houston Center for Contemporary Craft in 2019, and MadArt studios in 2021. Curran has exhibited work at the Bellevue Art Museum, The Whatcom Art Museum, The Children's Art Museum in NY, and Paris Fashion Week collaborating with the world-renowned designer Iris Van Herpen. Continuing in the vein of his most recent exhibition Parable of Gravity Curran's work continues to map our psychological relationship with nature and deep time.
Devon Yan is a fashion designer who uses his personal experiences to create beautiful wearable works of art that express his story and unique vision. This means creating bold, colorful, and elegant pieces that express joy and enthusiasm for life.
ANDROS grant + Bren Bryan
ANDROS grant is an interdisciplinary artist who creates sacred queer spectacle. Drenched in high faggotry, ANDROS' immersive installations, papercut collages and ritualistic performances luxuriate and antagonize at the intersection of queerness, culture, and identity. Her work has been exhibited at Vermillion, Ghost Gallery, V2, Pony, True Love Art Gallery, Fred Wildlife Refuge, 'Mo-Wave, King St Station, Vibrations, Gay City, and the Seattle Erotic Art Festival. She is a trans womxn, Buddhist, and pornographer occupying stolen Multnomah, Wasco, Cowlitz, Kathlamet, Clackamas, Bands of Chinook, Tualatin, Kalapuya, and Molalla tribal land.
Bren Bryan loves working three-dimensionally. She is inspired by nature, lore, and the avant-garde. Bren often uses obscure historical references in her work and researches every piece while creating a story. She creates using mixed media including sewing, weaving, painting, and constructing with texture, layers, and dimension.
Christopher Vazquez + Aaron Lafferty
Christopher Vazquez is a Cuban queer artist born in Miami, FL works in Chicago, IL, and Seattle, WA. Vazquez is a graduate of the New World School of the Arts in Miami where his experimentation with photography, video, and sound developed into a concentration in electronic inter-media studies. Vazquez is known for his multimedia work incorporating photography, video, light, and sound that draws inspiration from cultural memory, politics, and the human condition. These pieces have been presented by various institutions including The Museum of Contemporary Art, North Miami; The Bass, Miami; and The Pérez Art Museum, Miami. His practice has been recognized through awards including The Bass Museum Art History Award (2001), and Scholastic Arts National Portfolio Gold Key Award (2002).
Aaron Lafferty is a Seattle-based artist, designer, and Italian-trained chef. Taking inspiration from a myriad of influences, Aaron's career has varied greatly from custom ski wear to custom bridal. He studied culinary arts abroad with some of Italy's greatest chefs. Now his focus is on jazz and R&B music, having performed with his trio at Vermillion Gallery and Bar multiple times before the pandemic. He is planning new shows for the fall of 2022 and spring of 2023. This is Aaron's 3rd appearance in IMMINENT MODE. This year, in collaboration with artist Christopher Vasquez, he has created a line of men's wear inspired by the great French and Italian ateliers of old.
Jacob Sutton + Amanda Manitach
Jacob Sutton is a Seattle-based apparel designer who has spent the last three years designing womenswear and gender-inclusive fit garments for the mass market at Nordstrom. With a background as a pastry chef, he eventually shifted his love of all things beautifully made to the fashion industry. Sutton's obsession with detail, construction, and craft are apparent in every inch and aspect of his garments. The details should always support and bring into focus the inherent beauty of the wearer. Storytelling is also always at the heart of Sutton's work: whether garments are designed for performance on stage or everyday wear, he aims to create work that alludes to underlying stories that are heartfelt, rich, and reflective of the world of the wearer.
Amanda Manitach is a Seattle-based artist with a practice rooted in drawing. Her drawings come to life through a labor-intensive, meditative process of obsessive mark-making, where text melds with pattern, incorporating aspects of the visceral, dirty, and humorous with the delicate, poetic, and sublime. Manitach's work has been exhibited at numerous museums in the region. From 2012-2015, she served as curator of the Hedreen Gallery at Seattle University. She has co-founded multiple mixed-use arts spaces in Seattle, including TMRW Party and The Factory. She is represented by Winston Wachter Fine Art in Seattle and New York.
Mariel Andrade + Pete Rush
Mariel Andrade is a Brazilian American contemporary painter. Exploring themes of duality that convey elements of myth, humor, and nostalgia. Her paintings are often an illusion of one reality versus another. Often using a saturated and pastel palette, so the subject and color create a confusing paradox. Sparking their sense of psychology, her work plays with one's perception to evoke the enigma within the viewer. This is her third year with IMMINENT MODE.
Pete Rush designs costumes and scenery for theatre, creates custom fashion, and plays in the realm of installation and fiber art. Rush also produces free public events with Seattle Center, including Artists at the Center and Movies at the Mural. He teaches costume design and Fashion Lab classes at Seattle University and cultivates an at-home indoor urban garden. This is proudly his third time contributing to IMMINENT MODE. Union Member USA Local 829.
Jordan Christianson + Lilia Deering
Lilia Deering is a Seattle-born multimedia artist specializing in designing vibrant spatial environments. Her artwork explores how objects and physical spaces are vessels of emotional history and communication. Colors and textures of all sensual varieties tap into our emotional centers and become important avenues of expression, symbols of identity, and sources of collective understanding. Her exploration of material and textural indulgence has led to designing physical environments for film and television, events, drag performances, pop-up shops, galleries, and more. Her design style, which encourages active physical engagement with art, is informed by her studies in dance and physical theater at the California Institute of the Arts. Lilia's focus on immersive and interactive projects furthers her mission of breaking down the barrier between the spectator and the art and prioritizes inclusion by stimulating senses, sparking curiosity, and igniting imagination.
Jordan Christianson is a Pacific Northwest native, multidisciplinary Creative, and Couturier to a diverse entertainment and design community. For nearly two decades, Jordan's work has been featured internationally in museums and galleries, on stages, pages, and screens.
Media
Public Display.ART – Imminent Mode: Fashion on Edge
---
ARTS at King Street Station is FREE and open Wednesday – Saturday, 11 a.m. – 5 p.m, and until 8 p.m. on First Thursdays.
This exhibition is organized and presented by the Seattle Office of Arts & Culture in partnership with program lead Jenny Ku and the ARTS at King Street Station Advisors. Support for the installation is provided by Benjamin Gale-Schreck and Blake Haygood.
Image: Adé A Cônnére wearing a garment by Jordan Christianson and Anouk Rawkson; Photo by Debora Spencer. Hero image: Vivian Lake wearing a garment by Jordan Christianson; Photo by Debora Spencer.
(Visited 1 times, 1 visits today)
Related Events