Kickback Hosted by Issa Man and Kylie Mooncakes
June 23 @ 7:00 pm

-

10:00 pm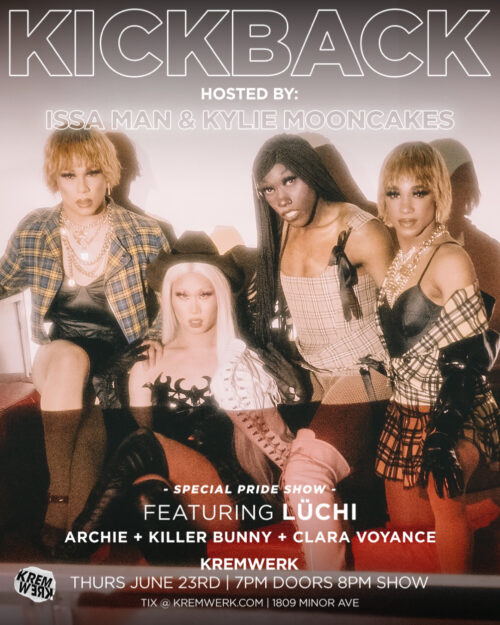 RING RING RING
WE HAVE ONE QUESTION FOR THE BAD B!TCHES IN THE WORLD…
AND IT'S TRULY QUITE SIMPLE:
____ ____ _____?
KICKBACK: SPECIAL PRIDE EDITION II
WITH AN ALL STAR PERFORMANCE FEAT:
 LÜCHI
@lifewithluchi
vnmo: lifewithluchi | cshapp: lifewithluchi
EXTRA SPECIAL GUESTS:
 KILLER BUNNY
@k_b_m_b_
vnmo: cjudas | cshapp: calvinjudas
 CLARA VOYANCE
@missclaravoyance
vnmo: claravoyance | cshapp: claravoyance
 ARCHIE
@archietheshycon
vnmo: archietheshycon | cashapp: archietheshycon
HOSTED BY:
 ISSA MAN
@issamanofficial
vnmo: issamanofficial
 KYLIE MOONCAKES
@xmooncakes
vnmo: xmooncakes | cshapp: xmooncakes
We cannot WAIT to start your official pride month festivities with maybe one of the best KICKBACK's to date. Seattle's finest LÜCHI will be joining us, as well as the tightest tuck in the city KILLER BUNNY. We're honored to have these babes from our first ever two shows coming back to celebrate with us. ♡ Also on the bill is up and coming legend miss CLARA VOYANCE, as well as the super super special long-time-comin drag debut of Seattle's pop superstar ARCHIE. Our minds are literally blown, so idk how tf you're feeling.
BUT WAIT… THERE'S LORE.
Does IssaCakes hosting together means a reunion of our favorite pop duo? Or is there… tea afoot? Will Issa be able to tether Kylie back into this plane of existence? There's only one way to find out…
………………………………………
VACCINATIONS
SAFER SPACE
The following actions or displays of behavior will not be tolerated: bigotry, racism, sexism, transphobia, homophobia, misogyny, and ableism.
CONSENT
Consent is required when interacting with others. A person's choice of self-expression is not an invitation for non-consensual touching. Any form of harassment including leering, rude comments or touching will be dealt with, and anyone caught harassing other patrons will be given a lifetime ban from our club. Our staff is here to support you.
PHONES
For the sake of the vibe during dance parties, we ask that you avoid using your phones or taking photos anywhere on the dance floor. Feel free to use your phones on the patio.
………………………………………
To stay in the loop about upcoming events, ticket giveaways, and more, sign up for the Kremwerk + Timbre Room Complex mailing list!
http://www.kremwerk.com/
………………………………………
Kremwerk is currently not an ADA-accessible space. Club entry is through a flight of 12 metal stairs, with two small steps leading into the main part of the club. We have 2 restrooms with a total of 3 stalls and 1 urinal, all gender-neutral. If you would like access to single-stall restrooms, please don't hesitate to ask our door & security to allow entry upstairs into Timbre Room, which has 2 single-stall gender-neutral restrooms. For any questions about safety & accessibility, please email info@kremwerk.com.
Related Events