Kremfest 2021
September 18, 2021 @ 6:00 pm

-

2:00 am

|

Recurring Event

(See all)

An event every day that begins at 6:00pm, repeating until September 19, 2021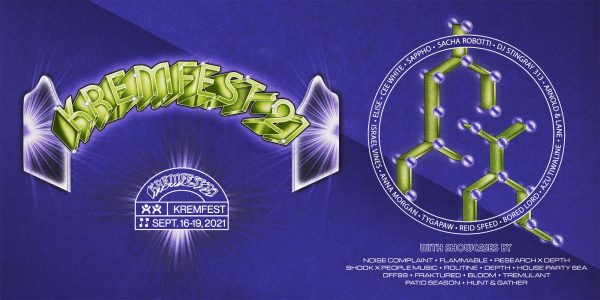 We welcome you back for the fourth annual Kremfest, a multi-day celebration of forward-thinking electronic music & multimedia at the Kremwerk – Timbre Room Complex!
 All-access and single-night tickets + schedule available: 
https://bit.ly/3tubbV1
SPECIAL GUESTS…
♬ Anna Morgan [Worst Behavior | Honolulu]
♬ Arnold & Lane [Dirtybird, Box of Cats | LA]
♬ Azu Tiwaline [Livity Sound | Tunisia]
♬ Bored Lord [T4TLUVNRG | Oakland]
♬ Cee White [PDX]
♬ DJ Stingray 313 [Micron Audio | Detroit / Berlin]
♬ Elise [JukeBounceWerk | NYC]
♬ Israel Vines [Interdimensional Transmissions, Eye Teeth | LA]
♬ Reid Speed [Play Me Records | Santa Monica]
♬ Sacha Robotti [Slothacid | LA]
♬ Sappho [Bottom Forty | Portland]
♬ Tygapaw [Tresor, NAAFI | NYC]
SHOWCASES BY…
♬ Noise Complaint
♬ Flammable
♬ Research X Depth
♬ Shook X People Music
♬ Routine
♬ Depth
♬ House Party Sea
♬ Off99
♬ Fraktured
♬ Bloom
♬ Tremulant
SUPPORT BY…
♬Arel
♬Austin Robertson
♬Brian Lyons
♬Cria Cuervos
♬Derek Pavone
♬Dot Diggler
♬Doza
♬Eve Defy
♬Frida K B2B Jaderade
♬Gag Reflex
♬GLTY
♬grymnk
♬herrasti
♬Jesse Leer
♬Kadeejah Streets
♬Merlin the Girl
♬Michael Manahan B2B Doza
♬Miss Min.D
♬Monotropa
♬N SO
♬Off99 DJ's
♬Parham
♬Parker Mills
♬Pelehon
♬Sam Hipp
♬Snapdragon
♬Subduktion
♬toastercookie
♬Wesley Holmes B2B Joe Bellingham
♬Yamanaka
♬Zeebo
………………………………………
MASKS
Due to the Washington State Mask Mandate, masks are now required while one is not actively eating or drinking.
SAFER SPACE
The following actions or displays of behavior will not be tolerated: bigotry, racism, sexism, transphobia, homophobia, misogyny, and ableism.
Consent is required when interacting with others. A person's choice of self-expression is not an invitation for non-consensual touching. Any form of harassment including leering, rude comments or touching will be dealt with, and anyone caught harassing other patrons will be given a lifetime ban from our club. Our staff is here to support you.
PHONES
For the sake of the vibe during dance parties, we ask that you avoid using your phones or taking photos anywhere on the dance floor. Feel free to use your phones on the patio.
………………………………………
To stay in the loop about upcoming events, ticket giveaways, and more, sign up for the Kremwerk + Timbre Room Complex mailing list!
http://www.kremwerk.com/
Related Events