Lights for Liberty – a Constellation of Lights | Seattle and Tacoma
July 12, 2019 @ 7:00 pm

-

9:00 pm

|

Recurring Event

(See all)

One event on July 13, 2019 at 12:30pm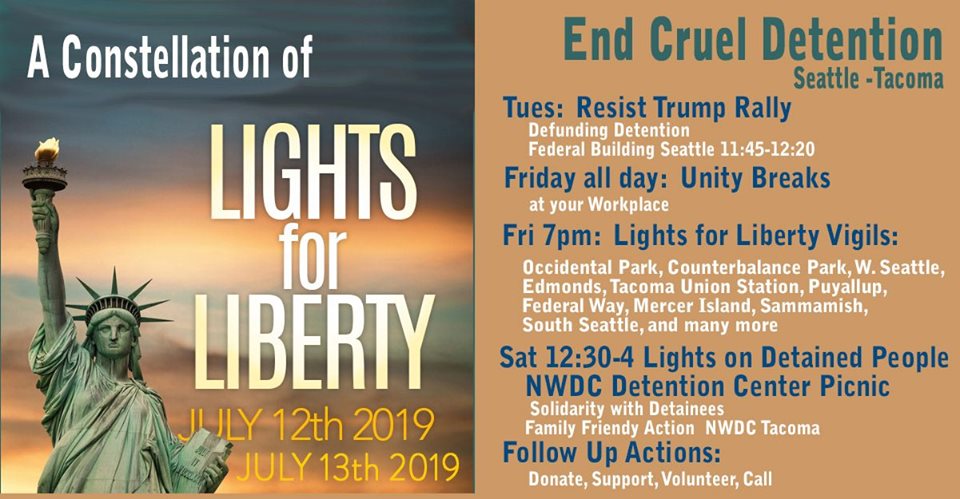 Join us! Stand Up against Immigrant Detention!
Fri Jul 12th – 7pm Vigil | Occidental Square in Pioneer Square, Seattle https://www.facebook.com/events/1546819312116317/
Fri Jul 12th – 7pm Vigil | Lights for Liberty Location Nearest You * Tacoma Union Station, South Seattle, Pioneer Square, Lower Queen Anne, West Seattle, Mercer Island, Federal Way, Edmonds, Redmond and more…
Sat Jul 13th – 12:30 pm Community Engagement | Lights on Detained People NWDC Northwest Detention Center
* find your location at www.lightsforliberty.org #LightsforLiberty #EndDetention
Across this country, we have witnessed acts against people fleeing persecution many of us thought we would never see in modern times.
At Trump's concentration camps, teen mothers and babies are held outdoors in "dog pounds." We have witnessed the sick and elderly confined to "icebox" rooms for weeks at a time. Unbelievably, children as young as 4 months are taken from their parents, medicine is confiscated, and medical care withheld, and LGBTQ and disabled individuals are held in solitary confinement.
At the NWDC in Tacoma, detained people are served rotten, inedible food, and are held in terrible conditions for want of bonds to release them to their families and communities where they can get legal support.
Perhaps most terrifying, refugees are beginning to be moved onto military grounds, where there will be a lack of oversight from the media, lawyers, and human rights monitors.
"Now is the time for every person to stand up and say, 'We will not accept this!'
We asked NW immigrant and detained persons support groups how we can most help those living this nightmare every day. What people detained most desire is their immediate release and connection to the outside, so we all know of the inhumane conditions they face everyday. The following series of events on July 12th and July 13th is based on their input:
Friday Night | LIGHTS FOR LIBERTY AT YOUR LOCATION: Lights For Liberty will be holding Friday night vigils around the country from 7- 9 pm to show that we stand in solidarity with immigrants who are under attack by the Trump administration.
Counterbalance Park Lower Queen Anne: https://www.facebook.com/events/579200342607384/
West Seattle: https://www.facebook.com/events/2218861164848587/
Tacoma – Union Station 1776 Pacific
Edmonds – United Methodist Church
https://www.facebook.com/events/2339450349668648/
–
Mercer Island
Federal Way
Puyallup –
More Coming…
Sat | Lights on Detained People. https://www.facebook.com/events/424732258369948/
At the specific request of those directly impacted, Saturday (July 13) will be a NOISIER Community day of SUPPORT at the NW Detention Center in Tacoma. We need lots of powerful voices so all detained people and any visiting families can hear our support. We also will learn meaningful ways we can help in the sustained fight against immigrant detention, such as:
– Contribute to the Fair Bond Fund and Free Our Neighbors Bond fund https://fairfightbondfund.org https://www.freeourneighbors.org/
– Sign up to volunteer at the Washington Immigrant Solidarity Network https://medium.com/@waisn/building-our-defense-line-under-the-threat-of-immigration-raids-a9f721583267
(Visited 1 times, 1 visits today)
Related Events