Makes Me Human ft. Daniel Bell @ Kremwerk
November 5, 2021 @ 10:00 pm

-

3:00 am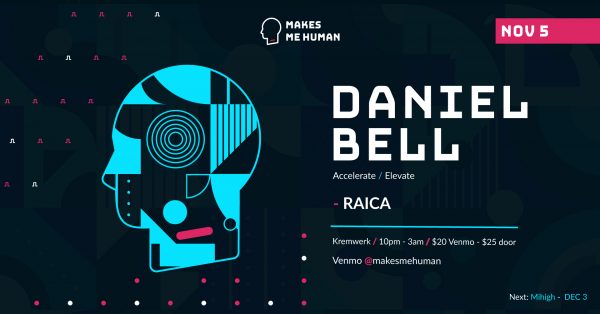 Following Sepp's October session of modern minimal, we're welcoming one of the genre's pioneers for the November edition of Makes Me Human at Kremwerk. With influences from both Detroit techno and Chicago house, Daniel Bell played a visionary role in developing U.S. minimal during the 90's. His collaborations included Cybersonik, a project alongside Richie Hawtin. One of the highlights of this foundational era was his track "Losing Control" from 1994 with its trippy voice effects, delays, and brooding atmosphere. Daniel Bell relocated to Berlin in 2000 including collaboration with Tresor Records before eventually returning to the U.S. where he is currently based.
Daniel Bell's last appearance in Seattle was in 2019 for Flammable Sundays at Re-bar. After the changes and challenges we've braved as a community, we feel this is the perfect timing to invite him back with local support from one of our city's finest electronic music warriors Raica. We'll see you at Kremwerk on Friday, November 5 as we go deep into the roots of minimal for a surreal night on the dance floor from two talented storytellers.
"In Detroit people rarely walk, they spend many months indoors in the winter and public transportation is almost non-existent. So people end up living a more isolated existence than compared to most cities. And I think you hear that in the music – the isolation, the emptiness, the space. It can be a bit wistful or hopeful at times but it's largely an introverted music that is a bit of out of step with the rest the world." -Daniel Bell
Nov 5 – 10pm >> 03am – 21+
Kremwerk 1809 Minor Ave.
Seattle, WA
………………………………………
TICKETS $20 Venmo – $25 door
Venmo @makesmehuman
*please include first & last name + email*
advance ticket sales end 5pm day-of-show
………………………………………
Sign up for future Makes Me Human info and events:
makesmehuman@gmail.com
NEXT – Mihigh – DEC 3
………………………………………
SAFER SPACE
The following actions or displays of behavior will not be tolerated: bigotry, racism, sexism, transphobia, homophobia, misogyny, and ableism. Consent is required when interacting with others. A person's choice of self-expression is not an invitation for non-consensual touching. Any form of harassment including leering, rude comments or touching will be dealt with, and anyone caught harassing other patrons will be given a lifetime ban from our club. Our staff is here to support you.
PHONES
For the sake of the vibe during dance parties, we ask that you avoid using your phones or taking photos anywhere on the dance floor. Feel free to use your phones on the patio.
ACCESSIBILITY
Kremwerk is currently not an ADA-accessible space. Club entry is through a flight of 12 metal stairs, with two small steps leading into the main part of the club. We have 2 restrooms with a total of 3 stalls and 1 urinal, all gender-neutral. If you would like access to single-stall restrooms, please don't hesitate to ask our door & security to allow entry upstairs into Timbre Room, which has 2 single-stall gender-neutral restrooms. For any questions about safety & accessibility, please email info@kremwerk.com.
………………………………………
To stay in the loop about upcoming events, ticket giveaways, and more, sign up for the Kremwerk + Timbre Room Complex mailing list! 
http://www.kremwerk.com/
Related Events