Manson Vs. The World Drag Show
October 11, 2019 @ 7:00 pm

-

10:00 pm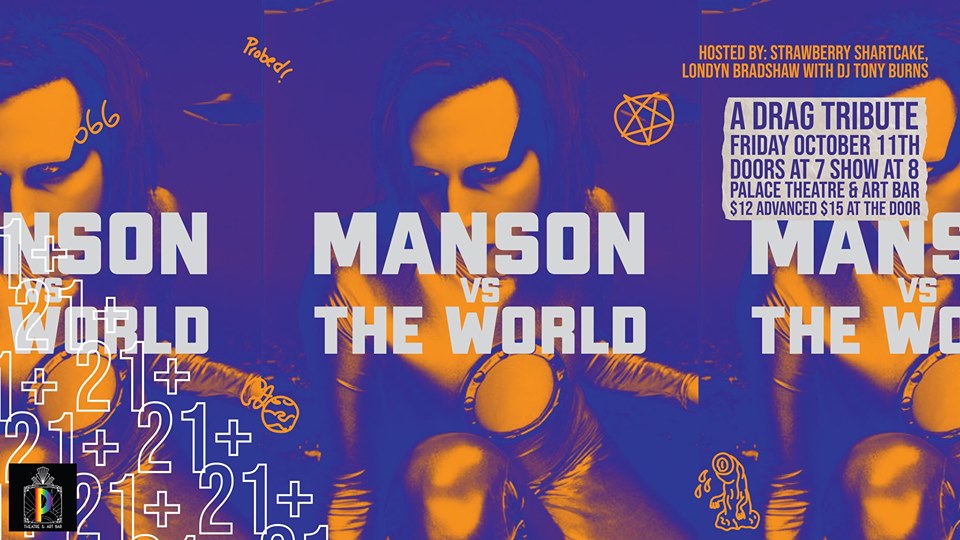 Babble babble bitch bitch
Rebel rebel party party
drag drag drag and don't forget the violence
Blah blah blah got your tongue-pop sad-and-lonely
Stick your stupid wig on and
Everybody lip sync!
Are you motherfuckers ready
For the new SNOW!?
That's right folx Vs. is back, and this time we're really getting messy. Join Strawberry Shortcake, Londyn Bradshaw, and DJ Tony Burns for this spooktacular Halloween edition of Vs.!
This month our performers will be pairing their favorite Manson song with their favorite Halloween performance, mixing and mashing a world of monsters, horror, and one of our favorite rebel icons: MARILYN MANON!
With performances by:
-Miss Texas 1988
-Elliot Artois
-uuuuuggghhhhhhh
-(and of course) Old Witch
Stage Kitten:
-Willy Nilly
So pop in a contact, Nash your teeth, and come on down to the Palace for a freaky fun time. Believe us when we say, sweet dreams are made of this!
Doors at 7 show at 8.
$12 in advance, $15 at the door.\
(Visited 1 times, 1 visits today)
Related Events